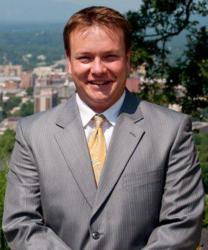 Help spread awareness of the dangers of distracted driving.
Asheville, North Carolina (PRWEB) April 15, 2013
April is National Distracted Driving Awareness Month. The car accident attorneys in Asheville NC at Fisher Stark Cash, P.A., are asking the public to join them in spreading awareness of the dangers of distracted driving.
Distracted driving includes, but is not limited to texting, using a cell phone, eating and drinking, talking to passengers, grooming, reading (including maps), using a navigation system, watching a video and adjusting a radio or MP3 player.
Despite continued warnings and recognition of the dangers, The National Highway Traffic Safety Administration estimates that at any given moment during the day, about 660,000 drivers are using cell phones or manipulating electronic devices behind the wheel. Thousands of people continue to be killed and injured each year as a result of distracted driving. Such tragedies are preventable.
Many people feel they can send a quick text while maintaining control of their vehicle and without endangering themselves or others. However, according to the National Highway Transportation Safety Administration, sending or receiving a text takes a driver's eyes from the road for an average of 4.6 seconds, the equivalent at 55 mph of driving the length of an entire football field, blind.
When discussing distracted driving, Asheville car accident lawyer Brad Stark says "because we practice personal injury law we are constantly reminded of the devastating effects distracted driving can have, from serious injuries to death. These tragic events impact not only those injured and their friends and loved ones, but the person who caused the injury, and can do so for life. We encourage everyone to join us in practicing safe driving and spreading the word on the dangers of distracted driving."
For more information about Brad Stark and his legal services, call 828-505-4300, visit the firm's website at http://www.ashevilleinjurylawyer.com/, or email brad(at)fisherstark(dot)com.
Fisher Stark Cash, P.A.
35 N Market St, Asheville, NC 28801
(828) 505-4300