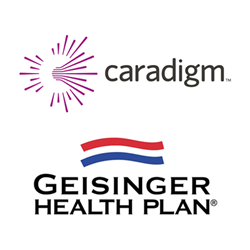 The community-wide care team can coordinate care efficiently, deliver consistent evidence-based care, improve quality and ultimately drive better outcomes.
Bellevue, Washington (PRWEB) April 15, 2014
Geisinger Health Plan (GHP), a leader in population health management, has deployed Caradigm Care Management to achieve breakthroughs in care efficiency, care coordination and patient outcomes.
"For 15 years, we have built and refined innovative care models. We found without data or decision support tools, we were not going to achieve the continuous learning that's critical to population health management," said Janet Tomcavage, chief administrative officer for GHP. "Caradigm Care Management allows us to deliver data transparency across the team and decision support for the first time. The community-wide care team can coordinate care efficiently, deliver consistent evidence-based care, improve quality and ultimately drive better outcomes."
Caradigm Care Management fulfills the promise of "one patient, one record" by providing unified, near real-time patient data – including medications and lab results, as well as biometric and claims data—aggregated from different clinical, financial and administrative data sources across GHP. This means that care managers no longer need to search for discrete data about patients in 12 – 15 different applications; instead they can use a single solution to get the information they need to care for patients.
In addition, Care Management uses the unified patient data to build a personalized plan of care that can be shared with the care team, enabling the extended care team to collaborate more efficiently and effectively as patients transition from hospital to clinic to home, and often into long-term outpatient chronic condition management.
To improve the consistency of care delivered across teams, Care Management also leverages GHP's care pathways in the development of the personalized care plan. Built around the patient's health issues, each plan includes the patient's health goals and the interventions that have proven to effectively manage their conditions. In addition, Care Management provides the ability to include patient-driven, personalized goals tied to clinical goals and outcomes. These goals allow patients to connect their lifestyle goals and aspirations – e.g., 'dance at my daughter's wedding' – to the behavior changes needed to improve their health, resulting in higher levels of patient motivation and commitment.
GHP also expects to significantly improve care efficiency and collaboration by streamlining and automating workflows. For example, merging task management and work queues into a single dashboard should enable care managers to prioritize activities and handle a larger caseload. Predictive risk modeling helps to stratify the utilization of the care team, not only to ensure that caregivers are practicing at the top of their licensure, but that their services are appropriately matched to the needs of a patient or population.
"To achieve optimal clinical and financial outcomes, healthcare organizations need to significantly streamline and support the work of care managers as they work with patients and the extended care team," said Brian Drozdowicz, Caradigm's vice president of Population Health. "With GHP, we've delivered a care management solution that uses unified data, rules and event-based tasking to simplify and automate workflows. We look forward to seeing the positive impact on GHP's population health initiatives."
Caradigm's four-pillar approach to population health management includes data control, healthcare analytics, care coordination/management, and patient engagement/wellness. Caradigm will continue to collaborate with GHP on future releases including utilization and pharmacy management, wellness management and patient engagement.
About Caradigm
Caradigm is a healthcare analytics and population health company dedicated to helping organizations improve care, reduce costs and manage risk. Caradigm analytics solutions provide insight into patients, populations and performance, enabling healthcare organizations to understand their clinical and financial risk and identify the actions needed to address it. Caradigm population health solutions enable teams to deliver the appropriate care to patients through effective coordination and patient engagement, helping to improve outcomes and financial results. The key to Caradigm analytics and population health solutions is a rich set of clinical, operational and financial data delivered to healthcare professionals within their workflows in near-real time. This data asset serves as the foundation for a growing number of innovative healthcare applications developed by Caradigm and industry partners, providing rapid incremental value to customers. Visit: http://www.caradigm.com.
About Geisinger Health Plan
Geisinger Health Plan, begun in 1985, is headquartered in Danville, Pa. GHP is ranked among the top health insurance companies in the country, according to National Committee for Quality Assurance (NCQA) Private Health Insurance Plan Rankings 2013-2014. The plan serves approximately 450,000 members in Pennsylvania, Delaware, Maine, New Jersey and West Virginia. Coverage is available for businesses of all sizes, individuals and families, and Medicare and Medicaid beneficiaries. Visit: http://www.thehealthplan.com.
Media Contacts
Peggy Fischer
Director of Communications, Caradigm
+1 (425) 201-2292
peggy.fischer(at)caradigm(dot)com
Amy Bowen
Public Relations Specialist, Geisinger Health Plan
+ 1 (570) 214-2643
albowen(at)thehealthplan(dot)com