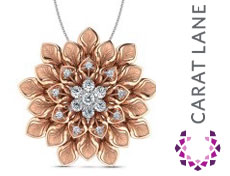 India's most trusted online jewellery store with an extensive collection of gold and diamond jewellery.
Chennai, Tamil Nadu (PRWEB) June 20, 2013
Women and flowers are quite synonymous to each other. Nature and specially flowers have been a timeless, classic source of design inspiration. A flower is a metaphor for a woman and has been used by jewelers throughout the ages. Celebrated online jewellery store, CaratLane.com has launched their exclusive Fleur collection which draws inspiration from exotic flowers like tulips, dahlias, roses, dianthus, plumeria and others to create the flower jewellery design. The collection is a subtle blend of strength and fragility. The collection captures the charm, aura and beauty of flowers and portrays them with the sparkling magic of diamonds, ethnic brilliance of gold and multi-hued allure of precious stones. CaratLane has hired LAD Solutions to help spread the word for their new launch.
Fleur collection is a progressiveness of Indian women who is often compared with the flower for beauty and tenderness and yet knows how to express her personality and individuality. From soothing tulip buds to blooming sunflowers and dahlias, CaratLane.com has created facsimiles of each flower with a creative twist. The use of enamel enabled to recreate the velvet petals of the mysterious flowers, (light pink enamel is used on the textured surface of dahlia flower to emphasize the softness).
The Rose Bud Ring is inspired from the yet to bloom bud exquisitely accented with diamonds and rubies. The Dahlia Flower pendant, earrings and ring set make a three-dimensional bold statement. The rare combination of rose gold and diamonds enhance the appeal of the jewellery. Intricate ornamentation and excellent craftsmanship are evident in every piece of the flower jewellery collection.
The price range of the Fleur collection ranges between $175 to $1400 (subject to change based on the gold price). These signature flower jewellery designs are available in three shades of gold viz. yellow, white and rose or in a combination of the two or three tones. CaratLane.com also offers Try-at-Home facility – you can wear and get opinion from peers and family before you buy jewellery online. The other best option is to visit any one of CaratLane's Experience Lounge to get first-hand experience.
About CaratLane: CaratLane.com, India's most trusted and largest online jewellery store have an extensive collection of gold and diamond jewellery. Quality and authenticity of our jewellery is validated by BIS hallmarking and certification from International labs like GIA, IGI, HRD and AGS. So, when you buy jewellery from Caratlane.com, you can be assured that it is worth every penny you invested in. Caratlane makes every effort in ensuring that customers are happy with their purchase and we have wide range of jewellery which is tailor-made to meet your requirements; be it unlimited designs, uncompromised quality or unbeatable price. Caratlane also offers easy and convenient payment options like 6-12 months EMI for credit card holders along with free, insured shipping anywhere in India.