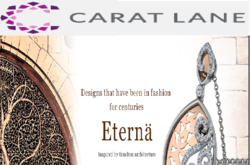 India's largest online jewellery store with an exclusive range of gold and diamond jewellery designs.
Chennai, Tamil Nadu (PRWEB) June 21, 2013
Eterna is a collection of designer jewellery inspired by the timeless architecture of Indian monuments. The dramatic shapes and intricate detailing, exclusive to monumental architecture, is perfectly replicated in the Eterna jewellery collection.
Just like monuments that have stood the test of times, this collection has a fresh take on classic style. Highlights of the current trend, sparkling textures is matched with diamonds and gemstones, while simple, clean silhouettes and bold designs are inspired by monumental architecture. Based on classical architecture, these jewellery designs help connect timeless architecture to the body in the form of engraving and cut-out designs. These engravings and cut-out designs are largely influenced by geometry and architectural motifs and patterns. Widely seen sculptural pattern like rosette is also seen in the Eterna jewellery collection.
These architectural jewellery designs are available in two shades of gold viz. yellow and white or white and rose and are brilliantly accented with diamonds and pearl. The presence of diamonds and pearls has also emphasized the inspiration to a greater extent; these two gemstones were used extensively than others by the royal throne of the past. The Cryptic Sun Ring is a beautiful rendition of the Konark Sun Temple, while the Lotus Flower Pendant replicates the Lotus Temple architecture.
CaratLane.com offers another exotic selection of luxurious designs at affordable prices that begin from as low as $400 (subject to change based on the gold price). The entire collection is the result of excellent craftsmanship which is the outcome of continuous striving for perfection and thorough research. All the designs have been rendered with a touch of style and uniqueness while they still retain the historical detailing intact. As of now our Eterna jewellery collection includes rings, earrings and pendants. Our collection is distinguished by designs, vibrant colour palette and sparking of diamonds incorporated in it.
About CaratLane: CaratLane.com is the largest and reputed online jewellery store in India offering an exclusive range of Solitaire diamonds, diamond jewellery, gold and engraved jewellery. Unlimited designs at unbelievably low prices discriminates CaratLane from other online jewellery stores and makes it the most preferred and trusted store since its inception. We offer the best quality diamonds certified by International organizations such as GIA, IGI, HRD and AGS and our prices are 25% lower than any other retailer. Try at home facility, easy and convenient payment options, free and insured shipping, free jewellery consultation and personalized services are other added benefits to our clients. Our jewellery comes with lifetime exchange warranty and our designs are custom made to suit the needs and preferences of our customers apart from being pocket-friendly. Jewellery designed at CaratLane has a special aura and character to it because we want our customers to flaunt them with pride.