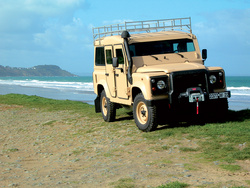 We understand the value of clear and current digital content and are dedicated to providing up-to-date information on both our industry and our upcoming products and research.
(PRWEB) April 4, 2010
The Carat Security Group, headquartered in Liège, Belgium, today unveiled CaratSecurity.com, an innovative enterprise portal featuring informational tools and resources for executive and governmental decision makers focused on mobile armored security. Combining the efforts of Carat Duchatelet and Centigon into a single online portal provides comprehensive information, reducing the confusion of selecting a mobile security provider.
The Carat Security Group was formed in February, 2008 as the world's two premier mobile armor manufacturers, Carat Duchatelet and Centigon, combined to form the largest commercial armored vehicle provider in the world, operating eight international factories, serving every continent.
Carat Duchatelet

40+ year track record as the industry's leading innovator in VIP and Head of State mobile armor
integration solutions

Dominance in elite armored coachbuilding including bespoke custom interiors and
world-renowned craftsmanship

45+ Head of State vehicles in operation worldwide
Centigon

130+ year operating history and 60+ years armoring expertise
Global operation well-positioned in Cash-in-transit (CIT) and commercial sedan and SUV markets
Respected military manufacturing capabilities and capacity
CaratSecurity.com provides enterprise information including both industry and company news, Group heritage and product details, as well as access to our social networking sites. The new portal brings together offerings including specifications, white papers, ballistics tutorials and information regarding Group research and development projects. Additional features include product videos and a list of upcoming events where you can visit the team and learn more about Group solutions.
"The new site is a timely reaction to our customer's growing needs. We understand the value of clear and current digital content and are dedicated to providing up-to-date information on both our industry and our upcoming products and research," says Vito Covalucci. "We are a growing and trusted company and our eCommunication tools reflect our commitment to transparency and technological innovation."
The company has experienced phenomenal growth since the merger in 2008. It now has more than 1,000 employees worldwide offering solutions in every area of mobile armored security, including a full suite of military solutions ranging from tactical vehicles to riot-control solutions, each featuring advanced electronics packages and customizable armor levels. Combined with existing commercial production capacity, the Group offers over 50 platform solutions, each meeting strict internal and external quality control measures.
A growing list of vehicle original equipment manufacturers (OEMs) have placed their trust in Group solutions. Cooperative relationships with worldwide operations including Land Rover, Jaguar, Scania, Renault and Peugeot, highlight a level of integrated support unique in the industry. This support extends to a worldwide service and support system designed to maintain and diagnose vehicle issues, anywhere on the globe. Support facilities and technicians are on stand-by 24/7 to resolve questions and concerns.
About the Carat Security Group
The Carat Security Group is an industry leader in mobile security, operating eight factories on four continents, producing world-class armored vehicles and security-related products for corporate and governmental agencies. As a trusted worldwide partner, the Group showcases long-lasting relationships with major OEMs and expanding operations that include electronic and ballistic glass solutions.
The Group incorporates three specialist divisions as follows:
Carat Duchatelet -- Premier VIP and head of state armored vehicle solutions worldwide. Headquartered in Belgium, Carat Duchatelet includes superior solutions based on platforms including Rolls Royce, Bentley, Maybach and Mercedes Benz.
Centigon -- Specialists in high-volume commercial and CIT products, Centigon is world-renowned for cutting edge research and development, along with a strong reputation for independently certified armor solutions; a name trusted by governmental and corporate entities across the globe.
Carat Defense -- Advanced military solutions including tactical and armored personnel carriers, riot control vehicles, up-armor kits and military truck cabins. Carat Defense solutions merge the Group's commercial expertise and advanced research capabilities to produce world-class military defense vehicles.
For further information please contact:
Vito Covalucci
Director Global Marketing
http://www.caratsecurity.com
+1 480 334 4300
###