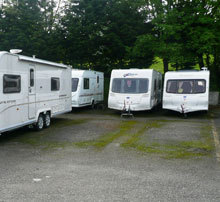 Christchurch, Dorset UK (PRWEB) August 24, 2009
Buying a used touring caravan in 2009 is not as easy as it used to be mainly because dealers are running low on good used caravans for sale. Andrew Jenkinson has been touring around some caravan dealerships and provides us with this up to the minute report.
Talk to any dealership about the state of their used stock levels and the reaction will be the same. It's become an embarrassment! Visiting caravan and motorhome dealerships it has become clear that 2009 has been a record year for used sales as the "Stay at homers" have seen caravans and motorhomes the way to go for investment holidaying. With times being hard those holidays are more precious than ever and value has become key in how money is spent on leisure time.
Newcomers have seen the dealer's forecourts empty quick as caravans are sold with little in the way of the traditional trade-ins normally seen on the forecourts. So by May good quality used family caravans especially have flown as the caravan bug takes hold. Motorhome dealers also have reported good sales with quality used panel van conversions and smaller coachbuilts being very much in demand. Even the holiday home caravan market which had seen dramatic sales decline last season has reported used units and new selling well.
We spoke to Bardsea Leisure in Cumbria who has seen used stock numbers drop from around 45 units to 9! Scotland dealer Knowepark has seen dramatic reductions from around 80 used down to around 15. Motorhome dealers have been actively buying from around the UK private sales to boost sales grounds choices. We spoke to Norfolk folding caravan specialist manufacturers and retail site Gobar, the demand for their folding caravans both new and used has seen their sales site become very sparse. The economic towing qualities and easy storage and good resale values has seen the company's product in more demand than ever.
New caravan sales generally have fared better than most, with the surplus 08 stock levels now gone and new 09 stock in short supply, new 2010 caravan models are already selling and with some of the new model launches still yet to come demand could be higher than anticipated especially with the pre-vat rate hike coming soon. Good used family models are in short supply while some two berth caravans have sold particularly well to.
Caravan sites across the UK have seen bookings up by a third on last year and with the ever growing sales new sites and extensions of existing ones will need to be implemented to allow for future expansion within the industry. In the meantime caravan sales remain high.
The Caravan Tourer web site from Caravan Insurance Specialists is provided as a service to help inexperience prospective owners avoid some of the pitfalls in caravan ownership. Expert Caravanner Andrew Jenkinson is on hand to help you find the right track to enjoyable caravan ownership.
Contact:
Philip Holden
Caravanwise Caravan Insurance
01425 280078
http://www.caravanwise.co.uk
###