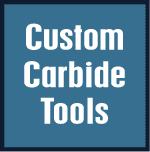 (PRWEB) November 18, 2010
CustomCarbideTools.com, a blog launched on the Web today, offers practical help to manufacturers that seek to reduce cost of project in the aerospace, automotive, marine, building supply and related industries. The Blog offers articles, multimedia features and videos produced by industry experts and commentators. A robust comment and discussion function provides a forum for on-line interaction, sharing of information and research. Today's inaugural edition includes excerpts from articles written by Jeff Sloan, editor of High Performance Composites, and Bill Kennedy, contributing editor for Cutting Tool Engineering, among others. CustomCarbideTools.com is published in response to the growing demand for solutions needed by manufacturers that machine and assemble parts made of Carbon Fiber-reinforced polymer (CFRP).
The Blog's editorial content will explore how custom cutting tools are used to machine today's most advanced metals, alloys and composite materials, as well as traditional steel and aluminum parts. Topic categories will include four areas of interest - reducing project cost; manufacturing process and set-up solutions; tool type and geometries; and tool substrate & coatings. The Blog solicits contributed articles, reader comments and discussion on tool making developments and strategies across a diverse range of manufacturing processes.
The Custom Carbide Tools Blog features in-depth articles, a photo archive posted on Flickr, a topical news feed and YouTube video library currently showcasing Lockheed video of F-35 aircraft assembly, Boeing's 787 Dreamliner test flights and more. The Blog offers a subscription registration form which allows subscribers to receive timely notification of new posts, article archives, an industry news feed, RSS and social media links, as well as a built-in share function. CustomCarbideTools.com is a service provided by AMAMCO Tool, (Duncan, SC), a custom tool solutions provider.
Follow CCT Blog:
Facebook
Twitter
Flickr
LinkedIn
Video caption: Lockheed F-35 program production floor where machined composite parts are assembled
# # #