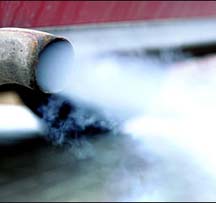 Always make sure that your CO Detector is in working order
Neptune, NJ (PRWEB) October 26, 2011
Carbon Monoxide (CO) is invisible, has no smell, and can be deadly. Carbon Monoxide Detectors have grown in popularity in recent years and are responsible for saving countless lives worldwide.
It is estimated that each year 170 die in the United States due to Carbon Monoxide poisoning; and, according to the Centers for Disease Control and Prevention, several thousand people visit hospital emergency rooms annually to be treated for CO poisoning.
CO is produced by incomplete combustion. Fuels such as natural gas, oil, propane, wood, coal and other fuels produce Carbon Monoxide, as do cars, lawn mowers, generators and machines that are powered by an internal combustion engine.
Here are some tips to safeguard against hazardous Carbon Monoxide:

It is of utmost importance to insure that all living and working areas are equipped with Carbon Monoxide detectors that have been installed as per the manufacturer and local fire and code enforcement recommendations for installation and placement.
Proper installation of appliances such as the stove, oven, and clothes dryer should be checked against the manufacturer's instructions and / or reviewed by a certified/qualified service company.
Professional inspection and servicing of heating units, hot water heaters and fuel-burning appliances should be performed annually
Chimneys, flues and vent pipes should be checked and inspected for obstructions, blockages, loose connections and related issues.
Gasoline-powered equipment in homes, garages, basements should not be operated in or near enclosed spaces. When running gasoline-powered equipment outside, one must be aware that CO can enter an enclosed space via open windows, doors and by other means.
Leaving a car running in a garage should never be done under any circumstances.
The initial symptoms of minor CO exposure are similar to flu-like symptoms. Symptoms include headache, dizziness, nausea, fatigue and shortness of breath. Higher level CO poisoning symptoms include confusion, vomiting, seizure, loss of consciousness, and even death.
If a Carbon Monoxide detector activates or if a person feels that they are having symptoms of Carbon Monoxide poisoning, they should immediately remove themselves to fresh air. Once out of the affected area, the home should be temporarily vacated and the fire department should be contacted.
"Take every precaution against harmful Carbon Monoxide and always make sure that your CO detector is in working order.", advises Don Colarusso, a firefighter for more than 24 years and President of one of the nations' leading suppliers of Gas Detectors and Fire Gloves.
###