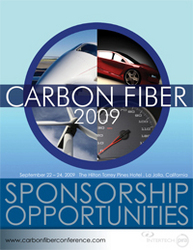 12th Annual Global Outlook for Carbon Fiber
Portland, ME (PRWEB) September 2, 2009
IntertechPira's Global Outlook for Carbon Fiber is in its 12th year now making it the most successful international carbon fiber event of its kind. This year's event will take place at the Hilton Torrey Pines - that's right, the same place Tiger won the US Open. Join us in La Jolla, California this September for the first carbon fiber conference of the year.
Chaired by Dan Pappano of Hexcel and Ben Rasmussen of BMR Associates, and featuring over 18 presentations and numerous networking functions, this is a must attend event for those involved in the carbon fiber industry. Presentations will cover global/regional supply and demand of carbon fiber, impact of economic developments on supply/demand, new developments in established and emerging markets, recycling carbon fiber and new applications, production challenges and opportunities, and new production methods and technical developments.
IntertechPira has confirmed Ed Carson as the keynote speaker for their upcoming "12th Annual Global Outlook for Carbon Fiber" two day conference. Ed Carson, Chief Executive Officer of Growth Management and Constructive Changes (GMC2) will deliver the keynote address on the changing business dynamics of the global composites industry: Outlook for 2010 - 2015. Ed Carson has recently joined GMC2, after a 32-year career at The Boeing Company where he served as Senior Business Manager.
"Carson's presentation will set the stage and identify key themes that will be addressed throughout the conference," says Conference Producer, Chris Smith. "Recently the composites industry has been challenged by global market volatility and now, with the market on the rebound, there will need to be adjustments to the market outlook for the next decade."
IntertechPira has also added to the speaker line up Gary Lownsdale, Engineering Manager at Plasan Carbon Composites. At the conference, Plasan Carbon Composites, a tier 1 supplier of cost-competitive, carbon fiber parts designed for mass reduction in low- and mid-volume platforms for automotive OEMs, will address the outlook for carbon fiber in automotive markets.
Hear from Zoltek Companies Inc., Hexcel, Pilato Consulting, Sika Corporation, Prince Sports, Tencate, Web Industries, Sigmatex, AWA LTD, University of Manchester, Aerostrategy, The Americas, SGL Carbon Group, and more. See the full program as well as gain information on speakers, exhibitors, sponsors, workshops and more by viewing the Carbon Fiber 2009 interactive brochure.
To learn more information or register for the conference, visit the event website at http://www.carbonfiberconference.com , or contact John Buss at IntertechPira: +1 202 309 7296. Exhibit and sponsorship opportunities are also available.
About IntertechPira
IntertechPira is a leading information services provider that specializes in giving industry executives strategic information and analyses pertaining to advanced materials and technologies driving the development of innovative products. We serve niche segments of the lighting and displays, high-performance pigments, fillers and fibers, energy and advanced materials, and electronic materials and devices industries by producing international conferences and publishing focused, relevant reports on which actionable business decisions can be based. IntertechPira is a subsidiary of Pira International, with offices in the United Kingdom and Portland, Maine, United States.
###