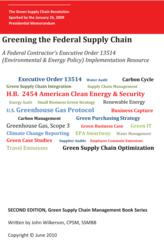 As announced our Green Supply Chain Management book series is an excellent resource for corporations and government organizations seeking to comply with the U.S. House Representatives 2454- American Clean Energy And Security Act
Atlanta, GA (PRWEB) October 20, 2009
Bellwether Services is an award winning and internationally recognized strategic management consultancy firm advising leading companies and government agencies on issues of strategy, operations, technology, sustainability, and lean sourcing celebrates the release of the First Edition of its Green Supply Chain Management (GSCM) Professional Development Series, North American Sourcing Manager's Green Supply Chain Measurement Guide, which is now available at http://www.amazon.com/American-Sourcing-Managers-Supply-Measurement/dp/1934947369/ref=ntt_at_ep_dpi_1 or books (at) bellwether-services (dot) com.
Ordering Details include:
Author: John Wilkerson
ISBN 13: 978-1-934947-36-4
ISBN: 1-934947-36-4
Retail & Online Retailers: Amazon.com, Borders.com, Booktopia, Books-a-Million
Author's Amazon Blog: http://www.amazon.com/-/e/B002LNWVSI
Why Read this Book?
Global retail manufacturers, supply chains providers, and tier 1, tier 2 suppliers should be knowledgeable about the strategic impacts of the U.S. House of Representatives Bill (H.R. Bill 2454)- American Clean Energy and Security Act, the proposed U.S. Senate Global Warming and Cap & Trade bill as well as the current Presidential Executive Order- Federal Leadership in Environmental, Energy, and Economic Performance impact on business and government agencies.
This book is an introductory educational resource for marketers, product developers, manufacturers, procurement, supply chain, logistics, and risk executives to understand the business side of the Carbon Cap & Trade, Carbon Credits, Carbon Footprint Analysis, and Greenhouse Gas (GHG) Management.
The implications for not understanding this topic may impact corporate profit margins, tier 1, tier 2 supplier business development strategies, and global government sourcing decisions.
Who Should Read this Book?
Supply Chain, Strategic Sourcing, Procurement, Purchasing, Risk Management, Marketing, Brand Managers, Product Managers, Product Engineers, and even Environmental, Health, and Safety (EHS) professionals should read this book series.
This timely and much anticipated Global Supply Chain education resource will benefit numerous industries beyond food and beverage. Future GSCM editions will be laser focused on industries such as:

Electronics
General Merchandise
Pharmaceutical
Food
Apparel
Beverage
Financial Services
Private Equity
Medical Device
Aerospace
Consumer Products
3rd Party Logistics
Transportation Providers
Distribution Companies
Freight Forwarders
Federal DoD Contractors
"As announced our Green Supply Chain Management book series is an excellent resource for corporations and government organizations seeking to comply with the U.S. House Representatives 2454- American Clean Energy And Security Act", "Senate Environmental Global Warming", and "Federal Leadership in Environmental, Energy, and Economic Performance Eexecutive Order", explains John Wilkerson, CPSM, SSMBB, Executive Director for Bellwether Services.
"This Carbon Footprint Reduction & Water Optimization book series is laser focused on solutions for Supply Chain, Procurement, Purchasing, Sourcing, Marketing, and EHS professionals," Wilkerson continues.
About Bellwether:
Bellwether Services is a strategic management consulting firm advising global clients on complex issues of strategy, operations, technology, and organization.
Bellwether specializes in Sustainability, Spend Analysis, Lean Six Sigma, Green Supply Chain, Environmental and Quality Audit Solutions. Bellwether has served numerous industries including Consumer Products, Private Equity, Beverage, Chemical, Food, Aerospace, Global Logistics Solution Providers, as well as Public Health, Medical Devices, Pharmaceutical and the Departments of Defense and Homeland Security.
Contact Us:
To order copies of the Carbon Footprint Measurement Guide and advanced copies of the Carbon Footprint Reduction: A Comprehensive Strategy for the Food & Beverage Industry
please call 404.386.2437 or e-mail Books (at) bellwether-services (dot) com.
John Wilkerson
Bellwether Services
404.386.2437
http://www.profnetconnect.com/john_wilkerson
http://www.bellwether-services.com/solutions/carbon_footprint.html
http://www.amazon.com/John-Wilkerson/e/B002LNWVSI/ref=ntt_athr_dp_pel_1
books (at) bellwether-services (dot) com
Our Mantra- Believe, Execute, Achieve
###