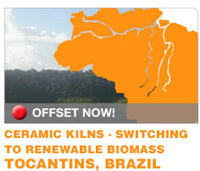 Through their collective purchases, individuals are making a difference. The Pop!Tech listings on eBay Giving Works make it cost-effective and practical for people to buy just one, five, or more tonnes, and at a price that would otherwise be out of reach to ordinary consumers
San Francisco, CA (PRWEB) December 16, 2007
Feeling like you're leaving carbon footprints wherever you go? Point your browser to http://www.ebay.com/poptech and see how you can support a community based project aimed at encouraging the use of renewable fuels. Here, you can simultaneously calculate your carbon footprint and support an effort to switch a local ceramics industry to renewable fuels.
Through a cooperative effort between worldwide emissions trading broker CantorCO2e, non-profit Ecologica, the developer of the Social Carbon Methodology, and the Pop!Tech Carbon Initiative, consumers can purchase carbon emission reductions through eBay Giving Works, eBay's dedicated program for charity listings. The Verified Emission Reductions (VERs) from the Bandeira project listed on eBay Giving Works are purchased directly from Ecologica Institute, sponsor of a project in Brazil's newest state, Tocantins. Encouraging the use of renewable fuels in local ceramic kilns alleviates pressure on the area's forests, which play a vital role in sequestering carbon from the atmosphere. The Pop!Tech Carbon Initiative offering on eBay Giving Works makes it easy for anybody with access to the web to make a difference.
"We are pleased to be working with Pop!Tech in an effort to enable individuals to offset their carbon footprint by purchasing tones (metric tons) resulting from the application of Ecologica Institute's Social Carbon Fund Methodology" said emissions trading broker CantorCO2e's co-CEO Josh Margolis. "Through their collective purchases, individuals are making a difference. The Pop!Tech listings on eBay Giving Works make it cost-effective and practical for people to buy just one, five, or more tonnes, and at a price that would otherwise be out of reach to ordinary consumers," concluded Mr. Margolis.
CantorCO2e, one of the world's leading providers of financial services to the environmental markets, is providing the carbon trading brokerage services on one of the projects highlighted by the Pop!Tech Carbon Initiative. Anyone can visit http://www.ebay.com/poptech to calculate their carbon emissions and purchase offsets.
An online carbon footprint calculator is available on the Pop!Tech eBay store. You can use this calculator to find out your exact carbon footprint, or you can use the following information to plan or budget your offset purchases. For example, the average:

American is responsible for emitting about 24 tonnes of CO2/year.
Small business with about 10 employees emits about 70 tonnes of CO2/year.
A car emits roughly 4.5 tonnes of CO2/year.
Cross country air flight put out about 1 tonne of CO2 per passenger.
This unique opportunity provided by Pop!Tech harnesses the spirit of the holiday season as individuals may buy carbon offsets for their friends and relatives as environmentally constructive gifts. Purchasers may choose to offset as much of their personal carbon emissions as they wish and will receive a post card to confirm their purchase. The program is applicable for an individual, business, or household.
For more information please visit http://www.ebay.com/poptech
About The Bandeira Project
The Bandeira Project is just one example of the type of carbon offsets Pop!Tech has listed on eBay Giving Works. This project is situated in the northeast of Brazil, in the State of Alagoas. The local red ceramic industry has historically used Atlantic Forest wood as the fuel source for their kilns. Atlantic Forest is the second major forest of South America and has been subject to uncontrolled deforestation, leading to the break up of land with only 7% of the original area now covered.
The objectives of this fuel-switch project are to stem the deforestation of a highly diversified biome while also reducing the anaerobic decay of agricultural waste in the surrounding region, which would otherwise release methane, an extremely potent green- house gas. By switching the fuel from Atlantic Forest wood to sawdust, bamboo, sugar cane and coconut husks - all renewable sources of biomass - the project will decrease CO2 emissions by at least 194,863 tonnes over a period of seven years.
About Ecologica Institute's Social Carbon Methodology
Ecologica Insitute's Social Carbon Methodology is a nationally and internationally registered mark created to guarantee that the projects being developed to reduce greenhouse gas emissions contribute meaningfully to the sustainable development of the area they are in. This is done by incorporating transparent methods, as well as measuring the benefits given to the local parties involved in the project and to the environment.
The Social Carbon Methodology is flexible, dynamic, and holistic, and can be applied in different types of projects such as forestry, energy efficiency, and renewable energies by using and monitoring six indicators within the Methodology: Carbon, Financial, Human, Social, Biodiversity and Natural Resources.
The Social Carbon Methodology has been in existence since 1999, and continues to be implemented on Emissions Reductions Projects in rural areas of Brazil and abroad which are validated and verified by independent Certifiers.
About CantorCO2e
CantorCO2e is a leading global provider of emissions trading, carbon trading and financial services to the world's environmental and renewal energy markets. CantorCO2e offers finance, consultancy, advice, technology, and transaction services to clients engaged in using and generating renewable energy and managing emissions across the world.
CantorCO2e helps people and corporations manage the financial aspects of their renewable energy and environmental choices. In North America and Europe, this means providing emissions trading brokerage services to the renewable energy and environmental markets. Elsewhere, this means bringing expertise, finance and technology to projects that reduce emissions.
CantorCO2e serves all of the world's principal emissions markets, including the Kyoto markets (CDM, JI and the European Trading Scheme), the US compliance markets, and the voluntary carbon market. We help entities transact via electronic trading screens, recorded telephone lines, auctions and negotiated contracts. As well as emissions, we broker 'new' energy, such as renewable energy, ethanol and biodiesel. We advise equity investment funds on carbon finance, introduce investors to projects, and structure forward sales to enable project developers to fund their investments. We help 'clean-tech' technology developers to manage their intellectual property, to develop their licensing strategies, and to roll out their technologies through our global network.
CantorCO2e is headquartered in London and San Francisco and has fourteen offices across five continents. This global yet local presence across the world, together with the unique experience of our staff, enables us to provide a level of service that few can match. For more information please visit http://www.cantorco2e.com.
About Cantor Fitzgerald, L.P.
Cantor Fitzgerald, L.P. is a leading global financial services firm. The Cantor Fitzgerald franchise includes institutional equity and fixed income sales and trading, investment banking, private equity, and asset management and other businesses and ventures. For over 60 years, Cantor Fitzgerald, a proven and resilient leader, has been committed to delivering a unique brand of unparalleled product expertise, innovative technology and customer service to its clients around the world.
For more information, please visit http://www.cantor.com.
###