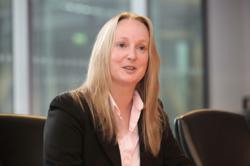 A Post-Doha Look at FVA and NMM and the IETA-led B-PMR
London (PRWEB UK) 28 May 2013
Madlen King, LRQA Global Head of Climate Change and Sustainability will be speaking at the prestigious Carbon Expo (http://www.carbonexpo.com/en/home) in Barcelona next week on two of the main topics for this years' conference. Carbon Expo is the world's leading international trade fair and conference for emissions trading, carbon abatement solutions and clean technologies.
Madlen's first presentation - scheduled for 1300 hrs on Thursday 30 May - will focus on a Post-Doha Look at the Framework for Various Approaches and New Market Mechanisms (FVA/NMM).
Madlen's second speaking engagement, also on 30 May, will take at place at 1400 hrs and address the new Business Partnership for Market Readiness (BPMR): Supporting Businesses and Sharing Best Business Practices in the Next Wave of Carbon Markets. The International Emissions Trading Association (IETA) (http://www.ieta.org/assets/BPMR/b-pmr_brochure.pdf) has launched the BPMR in support of the World Bank's programme. Through IETA's programme, participant members from industrial and service organisations such as LRQA that are already active in the carbon market, will assist in building readiness at a business level in the WB PMR countries.
The LRQA team of climate change technical experts will be located in hall 5, stand A118 during the event.
At LRQA, our focus is on helping our clients to verify their sustainability strategies, environmental and emissions management assertions are trustworthy, credible and accurate – throughout their supply chain. In turn, this helps ensure our clients are able to receive fair recognition for their sustainability improvements from financial markets, regulators, customers and consumers.
At an organisational level, LRQA can help assure that your environmental and emissions management programs are verifiable, accurate and reliable. Most importantly, we deliver independent, impartial and trustworthy opinions – vital to the long term credibility and success of your programs. Our strong record in environmental assurance provides the foundation for a range of assessment, certification and verification services around the world.
To find out more about how LRQA can help you with your GHG emissions management, visit us at http://www.climatechange.lrqa.com