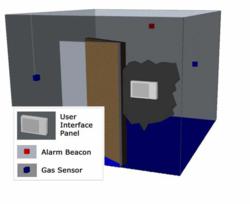 We were able to save the organisation a considerable amount on their existing service contract for monitoring the carbon monoxide emissions in the underground car parks
(PRWEB) April 19, 2012
The company, based in Leyland, in Lancashire, won a contract to service the equipment that controls the carbon monoxide emissions in the underground car parks at the hotel and conference resort which, in 2010, hosted the Ryder Cup - the once-every-two-years golf tournament between Europe and the USA.
As a result of that contract, the company was awarded a further contract to install a new carbon dioxide monitoring system in the beer cellars of The Newbridge-on-Usk - a pub owned by Celtic Manor Resort.
That contract involves monitoring the carbon dioxide levels from the beer cellars on an-ongoing basis and ensuring that the pub meets its obligations under the Control of Substances Hazardous to Health (COSHH) legislation.
"Exposure to too much carbon dioxide can lead to a person becoming unconscious and even potentially dying, so pubs, pub chains and hotel chains have a huge legal responsibility to ensure that their employees are not exposed to too much carbon dioxide in beer cellars and bars," said Tim Holmes, Managing Director of Safety Gas Detection.
"It can also be very expensive to fix a leak of carbon dioxide, so a preventative approach by the management of pub and hotel chains makes both financial and legal sense."
Tim added: "We are delighted to have won these contracts with such a prestigious hotel and conference organisation.
"We were able to save the organisation a considerable amount on their existing service contract for monitoring the carbon monoxide emissions in the underground car parks."
The company supplies, installs and maintains equipment such as carbon dioxide sensors, CO2 detectors, carbon dioxide testers, CO2 detection systems, plus carbon monoxide detectors, carbon monoxide alarms, CO gas detectors, along with other gas leaking or gas leakage detectors, for clients primarily in higher education, plus the drinks and the pharmaceutical industries.
Safety Gas Detection which develops its own gas monitoring systems for both the UK and overseas markets monitors the presence or depletion of a range of gases, including carbon monoxide (CO), carbon dioxide (CO2), nitrogen and oxygen.
In addition, the company also monitors refrigeration gases, as well as hydrocarbons, flammable and toxic gases. Its gas monitoring systems can monitor more than one gas at a time and can cover multiple areas of buildings.
Safety Gas Detection provides free, no obligation site surveys, as well as risk assessments, hardware installation, training, maintenance, calibration and alarm call receiving.
It also services components and parts of oxygen depletion gas detection systems of five of the most common suppliers: MSA, Crowcon, Quantum, GDS, and BOC.
The company is also embracing the most recent advances in technology. It provides gas monitoring systems that can be accessed remotely via the internet. In the event of an alarm, engineers from Safety Gas Detection can fault find and repair the system via the internet.
They can even provide text messages and emails to a client's key personnel to ensure that staff do not have to enter the risk area in order to get to the gas detection system's touch screen interface.
"This is ideal for buildings not occupied 24/7 or where it would be unsafe to enter the building," says Tim.
Safety Gas Detection clients include several car park operators, businesses using refrigeration, and a large number of universities across the country.
The company has recently started to export its gas monitoring and gas detection systems to parts of the Middle East.
For further information about Safety Gas Detection, please visit http://www.safetygasdetection.co.uk or call 0845 034 0960.
This release was submitted by Vizcom Design as part of an SEO campaign. Choose Vizcom for the best Web Design in Bolton.