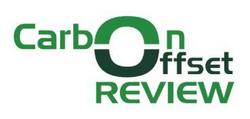 one metric ton of carbon
El Segundo, CA (PRWEB) February 15, 2008
CarbonOffsetREVIEW.com has become the leading resource for unbiased, complete information for help choosing among carbon offset providers and projects.
The site already boasts an impressive list of over 70 offset providers and new ones are being added daily from the U.S., U.K., France, Canada and Australia.
Carbon offsets are a fast developing way in which consumers can voluntarily offset their carbon (CO2) emissions by purchasing carbon offsets or carbon credits from a carbon offset provider. The provider then uses the proceeds to fund efforts in reforestation, renewable energy projects (wind, solar and hydro power), fuel substitution, energy conservation and methane capture.
The providers sell offsets as a standardized, single unit of "one metric ton of carbon" for a set price. The site displays the providers (more are joining daily) and a list of projects they support.
CarbonOffsetReview.com provides a detailed review of each provider along with a Blog and Carbon Offset Forum where consumers ask questions, get answers and comment on providers and their services. The site also offers browsing among providers by country, project type, price per metric ton, or by profit or non-profit. Offset providers can advertise on the site to target a prime audience.
CarbonOffsetREVIEW.com gives consumers a valuable tool to navigate the potentially confusing worldwide array of carbon offset providers by giving them clear, abundant and unbiased information.
More information for consumers, providers and advertisers can be found at http://www.CarbonOffsetREVIEW.com.
# # #