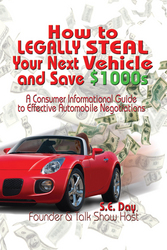 Buying a vehicle can be an enjoyable experience but who cares about enjoyment when you are trying to hold on to your purse or wallet. I have something to offer my readers as I share what the industry has offered me.
Tampa, FL (PRWEB) September 15, 2010
In his new book, How to LEGALLY STEAL Your Next Vehicle & Save $1000s, S.E. Day discusses the challenges associated with purchasing a vehicle and teaches consumers the auto industry's insider tricks of the trade. The book uses five thought-provoking concepts, which will diminish the fears of car-buying and empower consumers to negotiate better and buy smarter while savings thousands of dollars. The book highlights the financing aspects as well as the trade-in aspects of vehicle purchasing. The book is release by Eloquent Books. The book is available via http://www.legallysteal.info, LegallySteal.blogspot.com or http://www.amazon.com.
How To LEGALLY STEAL Your Next Vehicle & Save $1000s is a stand-alone, consumer informational, self-help guide, which the consumer can carry into the dealer with them to effectively negotiate his or her vehicle. Upon been featured on Daytime TV, a national syndicated television program, Mr. Day advised that his book provides real-world tactics, techniques, and strategies that will allow the consumers the tools needed to successfully negotiate the purchase price, trade-in value, interest rates, finance charges, and insurance rates for their new vehicle purchase.
"The concepts of the book are designed to help consumers assess themselves as the buyers, to know the right vehicle to purchase, to understand the tricks of the trade, and to legally steal their next vehicle and save thousands of dollars. I want to educate the readers and get them involved in a process that has caused many to be in debt on a depreciable item far longer than they needed to be. The book will be a means to equalizing the playing field for the reader because it condenses the auto industry's tactics and secrets into a usable tool which consumers can use within the dealership to save themselves thousands," states S.E. Day, Author & Talk Show Host.
About the Author
S.E. Day is an auto industry insider, expert negotiator, talk show host, automotive journalist, and professional speaker. Mr. Day started in the auto sales business as a high-achieving salesperson in the early 1990s and elevated himself through various award-winning sales and finance management positions to eventually owning a pre-owned vehicle dealership. Mr. Day also created a successful vehicle-negotiation buying firm, which inspired the writing of the book. Mr. Day has created The LEGALLY STEAL Show, a talk format venue to help consumers equalize the playing field when making major purchases. The show airs on Saturdays at 2pm E/T on BlogTalkRadio at http://www.blogtalk.com/legallystealshow or http://bit.ly/ckYGHV.
###