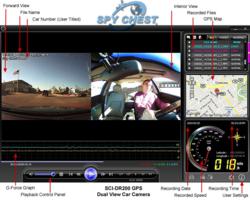 Our Vehicle Black Box Car Camera is revolutionizing the world of on-board car cameras and on-board safety.
Crestview, FL (Vocus/PRWEB) February 01, 2011
Spy Chest is excited to introduce the next generation in advanced car cameras and the latest member in its line of sophisticated recording devices - the Vehicle Black Box Car Camera.
Essentially the "big brother" of Spy Chest's previously released car cameras, the Vehicle Black Box Car Camera offers a highly developed audio, dual-view video, GPS data, and G-Force monitoring device, all while maintaining a compact footprint and a user-friendly format. Users are offered the latest technology in on-board car cameras without the hassle that generally accompanies the complex functionality of high-tech devices.
"Our Vehicle Black Box Car Camera is revolutionizing the world of on-board car cameras and on-board safety," says Pat Palmer, president and founder of Spy Chest Inc. "Its multiple functions allow it to act as a synergistic information source, making it an excellent recording solution for a variety of users, and in a wide array of situations."
With a 16 GB SD card boasting up to 16 hours of recording time, and its new dual-view camera simultaneously capturing video from the interior and exterior fields of view, the Vehicle Black Box Car Camera is the perfect device for anyone, from personal users looking to increase driving safety and protect private vehicles, to fleet users such as ambulance, limousine, EMS, tractor trailer, and delivery companies wanting to record driver / customer actions or document driving conditions.
Other noteworthy features of the Vehicle Black Box Car Camera include simultaneous audio-video recording and GPS tracking, infrared LED lighting for nighttime recording, speed, g-force monitoring, date, time, and cigarette lighter adaptor for a simple means of powering the device, and plug-and-play operation to ensure ease-of-use. This all-in-one car camera truly is the future of all on-board recording devices.
About Spy Chest Inc.
Founded by Pat Palmer over 10 years ago and incorporated in 2002, Spy Chest Inc. was originally created with the intent of protecting children and loved ones. As Spy Chest's clientele grew, so did the company, and it now serves not only concerned parents and spouses, but also businesses and government agencies. Today, Spy Chest is a major contractor of many small businesses, fortune 500 companies, and the U.S. Government, as well as nearly every branch of its military. Spy Chest strives to lead the field as the premier provider of the latest surveillance and counter-surveillance equipment on the market, and it stands by its mission to provide quality products to a variety of consumers, incorporating the utmost professionalism and discreteness in the industry.
Contact:
Pat Palmer, President & Founder
Spy Chest Inc.
210 S. Main Street
Crestview, Florida 32536
(850)683-8787
http://www.spytechs.com
###