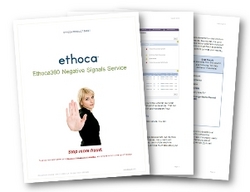 "If everybody joined the Ethoca network, we could literally stamp out credit card fraud." --Gilbert Fiorentino, chief executive officer, TigerDirect
Las Vegas, NV (PRWEB) March 16, 2010
Ethoca Limited, provider of Ethoca360 fraud detection services, has announced that it is now accepting applications for a new and innovative free service based on its flagship Ethoca360 Signals technology, targeted at helping online merchants prevent chargebacks and card-not-present (CNP) fraud.
Ethoca360 Signals is a fraud detection service that checks transactions in real-time against the Global Fraud Alliance (GFA) repository – a rapidly growing database of over 500 million historical transaction experiences compiled collaboratively by Alliance members – and identifies matches and patterns that indicate either fraud risk or a probable good order through intuitive color-coded "Warning Signals". Warning Signals that indicate fraud risk are referred to as "negative signals", while good transaction histories create "positive signals".
Ethoca's new service, which makes the "negative signals" from Ethoca360 Signals available for free, is the first and only one of its kind. Although a commercial grade service, Ethoca decided to make it freely available to all online merchants in an effort to build broader industry collaboration and to stem the losses that are suffered to online fraud each year. For merchants who sign up now and until further notice, Ethoca has committed to keeping the negative signals version of Ethoca360 Signals free forever. The free service is scheduled to rollout in April 2010.
The free negative signals service can identify a history of chargebacks, fraud, data inconsistencies linked to the current order and other unwanted behaviors. It is built to augment merchants' existing fraud management practices, adding information to their payment processing and fraud screening process that can't be obtained anywhere else. Negative signals information can be incorporated directly into merchants' fraud scoring, or used as decision support when manually reviewing orders. Offering single order, batch checking and real-time capabilities, Ethoca's free negative signals service is an exciting innovation for online fraud management, as there has never before been a quality resource of this nature available to merchants at no charge to help fight fraud.
Online merchants and others taking orders by phone, fax, or catalog, have a much more difficult task protecting their business against credit card fraud than traditional merchants who sell goods and services face-to-face with the customer. The difficulty arises because the customer is not present to confirm their identity or that he/she is even in possession of the credit card being used – hence the term "card-not-present" fraud. E-commerce fraud, alone, totaled over $4 billion in the United States in 2009, in a year when retail sales were tepid.
"Ethoca was founded on one simple fact, that knowing more about your customers enables better fraud prevention and that only through collaboration can merchants get a 360-degree picture of what they are dealing with," said Ethoca CEO and co-founder Andre Edelbrock. "Our goal in making this negative service free to merchants selling in a card-not-present environment is to help all of them spot high-risk transactions that would otherwise have been missed. For example, does a credit card, name, or email address have a history of chargebacks, blacklist entries, rejections, or other negative data? Users will see immediately which orders match any negative data in the GFA database. By collaborating on a global scale, online merchants have the ability to make fraud a problem of the past, and by making our Negative Signals service available for free, we are one step closer to making that happen."
"Joining together with the Global Fraud Alliance is one of the most important things we can do to help us make better order-processing decisions," said Gilbert Fiorentino, chief executive officer of TigerDirect. "What we love about the Ethoca network is if you're a multi-billion dollar company like we are, and you have huge resources to spend fighting credit card fraud, or if you're a small company with 20 or 30 employees, we all get the same benefit from sharing data with each other. If everybody joined the Ethoca network," Fiorentino continued "we could literally stamp out credit card fraud."
Merchants desiring richer information that can speed and automate a higher degree of fraud screening are able to upgrade to the full version of Ethoca360 Signals which provides positive context in addition to the negative signals. With positive signals, you both get a more comprehensive risk analysis of your transaction, and the ability to positively confirm good customers and low risk orders. You also see more sophisticated patterns, such as "deep linking" fraud where current transactions are linked through seemingly good orders that haven't been charged back yet, but connect to historical fraudulent orders -- a pattern which is only visible if you have positive and negative data.
Although Ethoca has enabled a clear upgrade path to the full Ethoca360 Signals product, merchants need not do so if they are happy with the negative signals service. The negative signals version of Ethoca360 Signals is a fully functional service, and it will always be available for free to merchants who apply now.
More information can be found, and applications for this free service are now being accepted at http://www.ethoca.com/negative-signals/
About Ethoca
With offices in Dublin, Toronto, and New York, Ethoca provides anti-fraud services to businesses taking credit card orders online, by fax, through catalogs and by telephone. Ethoca pioneered and mastered the concept of collaborative fraud management to fight online credit card fraud. Learn more at http://www.ethoca.com.
###