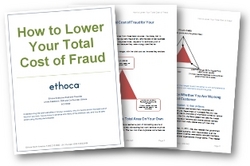 Ethoca360 Signals arms you with data you can't get any other way -- a rapidly growing repository of over 500 million consortium-pooled real-time e-commerce transactions.
New York, NY (PRWEB) March 12, 2010
Ethoca Limited, provider of Ethoca360 fraud detection services and the unique collaboration engine that powers the Global Fraud Alliance, has released Ethoca360 Signals, a decision support tool for card-not-present fraud screening.
Ethoca360 Signals delivers collaborative value from the Global Fraud Alliance (GFA) data pool of over 500 million transaction experiences. It significantly improves the fraud screening efforts of merchants operating in a card-not-present environment through real-time assessment of a buyer's reputation based on the aggregate experiences of merchants across shopping sites and across industries, as well as global insight about international orders.
"Ethoca360 Signals is easy-to-use, intuitive and powerful. It arms you with data you can't get any other way, beefing up the predictive accuracy of your primary fraud screening tools and methodology," said Ethoca chief executive officer and co-founder Andre Edelbrock. "Secondly, it offers simple, intuitive decision support analytics for manual reviews, enabling you to make better decisions faster when your primary screening can't clearly tell you to accept or reject an order."
The cost is low – ranging from a fraction of a cent to only a few cents per transaction.
Typically, when merchants screen online orders for possible fraud, their predictive analytics (scoring) tools run numerous rules against the transaction looking for known patterns of risk. The best tools and methodologies also look at a merchant's own experiences -- scanning historical data -- to determine whether you've had problems with this person, or have a history of successful repeat orders with no chargebacks or other issues.
"It just makes good common sense to evaluate previous consumer behavior and your own experiences as part of your risk decision," said Edelbrock. "And this offers tremendous value in expediting the order process. The problem is that you only know about the customer's previous dealings with you, and if they are a first time visitor to your site, you have no prior experience to support your decision."
Collaborating merchants get a 360 degree view of the customer's payment reputation, including:

Order velocity across merchants, industries or even countries
Data inconsistencies and anomalies
Deep linking across a "hop scotch" of data attributes
Direct transaction matching
All this information, both positive and negative, is rolled up into Warning Signals -- behavioral analytics -- that significantly enhances a merchant's awareness of who they are dealing with.
Merchants that already have a fraud score, benefit especially. The reason is that a score may be a single number, but it is calculated from a variety of raw data: names, addresses, card numbers, frequency of use, and more. When the rules that create a merchant's score fire, it could be that only one or two elements are enough to turn a good score into an ambiguous score -- a potential fraudster.
"The real-time Warning Signals help you quickly see where risk is," said Edelbrock. "You get a simple, red, green or yellow signal for each key element."
Ethoca360 Signals takes merchants' transaction data and breaks down the risk associated with key elements by cross-checking merchants' orders against the GFA database. It reveals patterns including inconsistency, velocity, negative or positive history all in real-time, and the color-coding shows you in an instant whether there is risk and why. On the other hand, if a customer has a long solid record of positive payment outcomes, that's plainly evident too.
Warning Signals communicate risk instantly, providing the decision support necessary to make manual reviews more productive.
Ethoca360 Signals offers opportunity to bolster 3rd party fraud scoring tools, whether from dedicated anti-fraud vendors or payment services providers, improving the accuracy, certainty and confidence in the result. This is because the high quality signal information can be captured and baked into a score as a strong influencing factor, tipping the decision towards Acceptance or Rejection depending on what the behavioral analysis indicates.
For example, if you are willing to accept any order above a certain score where all Warning Signals are green, then simply write a rule that automates that decision, and remove that order from the review queue. Similarly, if some combination of Red and Yellow Signals on email address and credit card is enough to always say no, write a rule that automates that decision by reducing the score. Payment processors offering their own fraud screening tools can significantly improve their competitive market position both through adding this information to their proprietary scoring, and by offering GFA membership and access to Signals data to their clients.
The result, either way, is higher productivity and better decisions, because fewer orders are out-sorted for manual review, and for the remainder, you have the extra information needed to make faster and more accurate decisions.
About Ethoca
With offices in Dublin, Toronto, and New York, Ethoca provides anti-fraud services to businesses taking credit card orders online, by fax, through catalogs and by telephone. Ethoca pioneered and mastered the concept of collaborative fraud management to fight online credit card fraud. Learn more at http://www.ethoca.com.
###