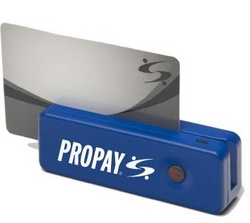 We believe the MicroSecure Card Reader has the potential to change the face of the transaction industry
OREM, Utah (PRWEB) October 29, 2008
ProPay's patent-pending process includes the credit or debit card information being encrypted at swipe and stored in coded form for later processing or being transmitted and processed real-time through ProPay's secure virtual terminal from any Internet-connected PC.
"We believe the MicroSecure Card Reader has the potential to change the face of the transaction industry," said Greg Pesci, ProPay Executive Vice President of Business Strategy. "Because the cardholder information is encrypted at swipe and then securely transmitted and processed though our virtual terminal, this is the first truly secure, end-to-end card processing solution we are aware of."
Released at an introductory price of US$99 plus a small monthly support fee, the ProPay MicroSecure Card Reader is also affordable.
Market research shows that more than 6.9 million small and mobile merchants run credit and debit card transactions. Since its recent launch, over 2,000 home party consultants, mobile service providers, schools, charities, fund raisers, fast food restaurants, and door-to-door salespeople have purchased and are using the ProPay MicroSecure Card Reader to quickly and securely capture and process their customers' credit and debit cards.
"This goes well beyond helping these merchants avoid the risks and headaches of writing down cardholder information for later processing," added Mr. Pesci. "We find most don't fully appreciate the PCI requirements and risks they and their acquirers bear. Rather than expecting these smaller merchants to spend vast sums of money on PCI compliance or to learn how to secure their systems from every possible breach, they can use the ProPay MicroSecure Card Reader to remove cardholder data from their systems altogether. By removing the data, they can remove most, if not all, of the cardholder data security risks."
To purchase the ProPay MicroSecure Card Reader or to obtain more information, please go to MicroSecure Card Reader (http://www.propay.com/SPC/).
About ProPay
Since 1997, ProPay has led the market in providing simple, safe and affordable credit card processing and electronic payment services for businesses, ranging from the small, home-based entrepreneur to multi-billion-dollar enterprises.
ProPay understands the unique needs of these businesses and has created payment services specifically for them. With ProPay, merchants can set up an account online and rapidly begin accepting credit cards without buying special equipment and making long-term commitments or investments. ProPay leads out in educating merchants of every size about how to reduce or eliminate the risk of touching or holding sensitive cardholder data. The company also leads the payments market in the development of end-to-end data security solutions and alternative payment options that can significantly reduce risks and operating costs.
ProPay is a privately held company headquartered in Orem, Utah. For more information, visit http://www.propay.com.