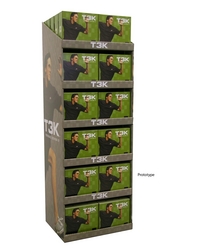 We can deliver quality in a shorter time because we are able to control the entire process, from concept to design to manufacturing to delivery. Having the equipment and personnel in-house has been crucial to our success
Minneapolis, MN (PRWEB) March 19, 2009
With end-to-end control and right-size agility, Creative Displays Now! has been able to respond to a new marketing environment that calls for more efficient, high-value, creative displays and packaging. The firm, committed to making it easier to market with corrugated point-of-purchase display models, retail packaging and cardboard displays, is introducing new standard display options.
These have been added to custom designed displays and packaging the company has been providing to its customers for more than 40 years.
"Creative Displays Now! is focused on helping our customers sell more products. We pride ourselves on speed and quality when delivering cardboard product displays and creative retail packaging to our clients," explains company president Bill Calengor.
Standard and custom cardboard and corrugated displays are available. The most recent additions to standard counter and floor cardboard displays are designed for easier shipping and lower production cost. Optional in-house design is also available.
The custom gallery of creative retail displays and packaging and displays can be viewed online, and reflects the full service capabilities of Creative Displays Now! Specialists are available to handle everything from concept to fulfillment, and services are designed for immediacy. Prototype services let customers see custom point of purchase displays, for example, before they give the green light on manufacturing, while printing options "close the loop" on the firm's color management process with the 6-color KBA, 5-color flexography presses and a range of digital print services.
"We can deliver quality in a shorter time because we are able to control the entire process, from concept to design to manufacturing to delivery. Having the equipment and personnel in-house has been crucial to our success," says Calengor.
Customers have access to a team of designers with deep experience in point-of-purchase display, corrugated displays, creative retail packaging and more, while new standard display designs provide more options to ad agencies and others who plan to do their own design work.
More information, a custom design gallery, and standard display images are available at the Creative Displays Now! website.
About Creative Displays Now!:
Since 1976, this design and manufacturing firm has provided custom point of purchase displays and creative retail packaging. The 140-member team, based in Minneapolis, Minnesota, provides end-to-end custom retail packaging and display services. The company also offers shipping and packaging supplies with Pack N Box Now!, Custom Boxes Now!, Stock Boxes Now!, and Packaging Supplies Now!. Each service is accessible through its own website, though all sites share a single shopping cart for ordering convenience.
###