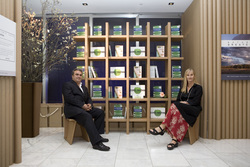 Big Ideas for a Small Planet
New York, NY (PRWEB) August 10, 2009
Sundance Channel will premiere season three of the award-winning original eco-series "Big Ideas for a Small Planet" beginning August 4th, 2009 at 8:00pm e/p. The 13-part series airs as part of THE GREEN, Sundance Channel's weekly primetime destination devoted to environmental programming. The series is produced by Scout Productions.
Big Ideas for a Small Planet, the seminal documentary series on Sundance Channel and one of the first programs developed for THE GREEN, continues to be on the forefront of the discovery and discussion of green design, innovation, and process. Each week, a different green theme comes into focus through the work of three specific forward-thinking innovators -- from scientists to product and fashion designers; from entrepreneurs to first-time inventors -- inspiring audiences to incorporate green thinking and practices into all facets of their daily lives. It asks audiences to imagine a world in which we eat, build, and raise our children green, but this season it expands its scope to address communities, animals, and art, as well as sports, music, and greener ways to relax.
This season Jackson Browne, Thom Filicia, Cindy Crawford, Soleil Moon Frye, and the Philadelphia Eagles are among those that will be featured and profiled. The series also showcases a cast of recurring expert commentators including award-winning scientist, geneticist, and author, Dr. David Suzuki; author and host of The Lazy Environmentalist Josh Dorfman; Urban Revitalization Strategist and host of Eco-Heroes Majora Carter; and Sustainability Journalist Simran Sethi.
The episode line-up for "Big Ideas for a Small Planet" is as follows:
Tuesday, August 11 at 8:00pm e/p
Episode 2: Design. The carbon footprint of the furniture industry is enormous. Can we imagine a world furnished by sustainable designs? Ideas include eco-friendly furniture, cardboard furniture and repurposing junk. Featuring interior designer Thom Filicia, Marjora Carter, Dixon Mitchell of Vanguard, Steve Bewley of Rerun Productions, and Vahid Pourkay and Cathy Henszey of Cardboardesign.
http://www.sundancechannel.com/films/500524847
###