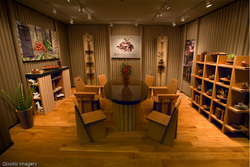 Big Ideas for a Small Planet
New York, NY (PRWEB) December 15, 2008
Cardboardesign, creator and pioneer of eco-friendly interior design through the use of recycled cardboard, in conjunction with The Park Avenue Bank, has launched a collaboration called "All About the Green", showcasing businesses that are either eco-friendly in nature or are "going green" by integrating eco-friendlier business practices for both themselves and their clients.
The debut event, which was held on November 13, 2008, showcased Cardboardesign's unique flair for eco-friendly ambiance and functionality by creating a cardboard conference room completely out of the recycled material-from the furniture to the decorative accents, even the walls of the room itself! The center of the room was graced with a cardboard "wish table" in which the table top was composed of exposed 'honey cell'. (Think bee-hive!) Each guest was asked to write down a wish or good intention on a dollar bill to be rolled up and placed into the table top which was then covered with glass. The table, as well as all of Carboardesign's innovative creations will serve as the back drop for all future events at the bank.
With a new global awareness swelling in regards to climate change, environmental pollution, and animal extinction, more businesses are taking it upon themselves to lower their "carbon footprint" by switching to 'greener', cleaner practices within their companies. A leader in "green living" by example, Cardboardesign keeps their carbon foot print low by not only using their own products and designs in their day to day, but also by doing their part to keep jobs stateside, as all of their products are made in America from start to finish ensuring ecologically conscious production methods and quality control.
Having done projects for Wired Magazine, The Guggenheim International Gala, Intelligent Nutrients, and The Museum of Natural History among others, as well as being a valued customer of The Park Avenue Bank, Cardboardesign was excited to be a part of the exhibition series not only for the opportunity to design the event, but to also showcase their full line of recycled cardboard furniture and décor which aside from it's aesthetic beauty will serve as an inspiration for other companies to "go green".
The Park Avenue Bank President & CEO, Charles J. Antonucci Sr., was quoted on The Park Avenue Bank's website singing Cardboardesign's praises:
"Using Cardboardesign furniture allows us to promote environmental awareness without sacrificing quality." He continued, "It is our hope that experiencing the comfort and elegance of Cardboardesign at the exhibit will encourage others to use Cardboardesign as well, and join us in becoming more eco-friendly."
The event was documented by a film crew from The Sundance Channel as part of a segment for a show called "Big Ideas for a Small Planet", which will be featuring Cardboardesign in an upcoming episode (Spring 2009.)
The Cardboardesign store is located at 410 A W Broadway in the SoHo section of New York City. Business hours are Sunday through Saturday, 11am to 7pm with extended holiday shopping hours to be announced. Have questions? Call or fax Cardboardesign at ph:212.343.9700 or 201 867 0005 fx:212.343.9702 or you can visit online at http://www.CARDBOARDESIGN.COM
For more information about future "All About The Green" events at The Park Avenue Bank, call 212.755.4600 or go to http://www.parkavenuebank.com.
Exhibition Hours: Monday, Tuesday, Wednesday, Friday - 8:00am - 4:00pm, Thursday - 8:00am - 6:00pm, 350 Park Avenue, New York, NY 10022
Photography by Quixotic-Imagery
###