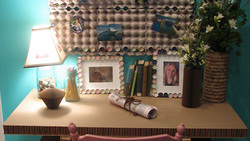 Cardboardesign products combine a cool-looking aesthetic in durable, non-toxic, earth-friendly furniture.
New York, New York (PRWEB) December 11, 2008
On Sunday night, December 7th, 2008 Cardboardesign, creator and pioneer of eco-friendly interior design through the use of recycled materials, made an appearance on prime time television with it's eco-friendly furniture and decor utilized by the designers of ABC's "Extreme Makeover- Home Edition" in which part of the DeVries Family's house was renovated by utilizing "Green" products and materials.
Hosted by - design team leader - Ty Pennington, the show begins with what ABC's website describes as, …team leader Ty Pennington's now-famous GOOD MORNING wake-up call, when he, along with the other designers, surprises the unsuspecting family with news that their home has been chosen to receive a makeover. The premise of the show is that the selected families get treated to an entire home renovation-most of which would normally take many months to complete and at very high cost, but instead, in a very short period of time and at no expense with the help of hundreds of professionals working in the fields of construction and interior design. The families selected by the show are considered to be HERO families who not only are champions of their community, but are forced to endure personal hardships of their own and are unable to complete these projects by themselves.
Cardboardesign, a leader in eco-friendly products, was an obvious choice to be part of the décor in this newly refurbished green home.
Cardboardesign Sales Manager Barbara Henszey elaborated on this by saying, "Cardboardesign products combine a cool-looking aesthetic in durable, non-toxic, earth-friendly furniture." She continued, "A perfect choice for the DeVries' 'green' household, Cardboardesign combines 'high style' with 'eco-friendly'…it's furniture that is fun and functional! It was a perfect fit!"
Some of the rooms were decorated with Cardboardesign's recycled desks, tables, and space dividers, while others featured eco-vases and Liquid Cardboard designs.
All of Cardboardesign's products can be viewed and are available though their web site http://www.cardboardesign.com or at their New York City retail location at 410A W Broadway in SoHo. For questions about Cardboardesign products you can call the ooffices at 201 867 0005 or the retail store 212 343 9700.
"Extreme Makeover-Home Edition" airs Sunday nights at 8/7c on ABC. Check local listings for city specific network channel. The episode can be viewed at ABC's website: http://abc.go.com
###