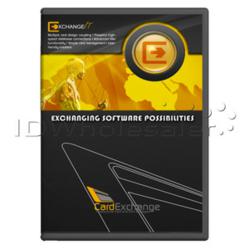 Chanhassen, MN (PRWEB) December 12, 2012
The latest version of CardExchange software from ExchangeIT is now available at ID Wholesaler, the largest photo identification products retailer. CardExchange 7 offers improved functionality and features to simplify the ID card creation process.
Available in five editions – Designer, Entry, Premium, Professional, and Ultimate – CardExchange 7 ID card software meets the needs of basic to advanced ID card printing applications. The latest version includes a number of improvements, including advanced design tools, automatic mapping with drag and drop functionality, and an ability to view and update data in the connected database. Plus, PhotoExchange is now integrated into CardExchange software, allowing control of an ID camera within the CardExchange software without purchasing a separate add-on.
A free 30-day trial of CardExchange software is available from ID Wholesaler. The trial provides access to features found in all CardExchange editions. To purchase CardExchange, simply order a license for the edition needed. Everything that was configured during the trial version will remain. Upgrading is also easy; simply purchase the upgrade license to unlock additional features.
To learn more about CardExchange, visit ID Wholesaler's CardExchange 7 software page or call an ID Professional at (800) 321-4405.
About ID Wholesaler
ID Wholesaler is the largest online retailer of photo identification products, serving its clients with guaranteed lowest prices, expert advice, and free support on everything they sell. ID Wholesaler stocks a broad selection of ID card printers and systems, ID software, supplies, and badge accessories from the leading manufacturers. For more information, visit http://www.IDWholesaler.com.