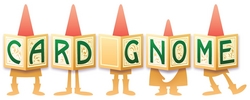 We want to do for greeting cards what Netflix did for movies: Make card-buying easy by bringing the distribution online, simplifying the process with easy online tools and creating a gratifying user experience. -- Joel Wishkovsky Co-Founder, Card Gnome
Boulder, CO (PRWEB) February 4, 2011
Card Gnome, a Boulder, Colorado-based online greeting card company, featuring independent artists and personalized, eco-friendly, printed cards, is launching its Valentine's Day "Send a Hug and a Kiss" promotion.
Buy one card at $4.49 and get one card free to mail anytime during the year to anyone else located in the United States or on a U.S. military base anywhere in the world. Card Gnome guarantees delivery in time for Valentine's Day when ordered by February 9th -- and each Valentine's Day card will be postmarked from LOVELAND, Colorado, America's "Sweetheart City."
Card Gnome offers the ease of online ordering, while remaining dedicated to preserving the time-honored tradition of receiving real cards in the mail. Offering a range of distinct card lines – from birthday to holiday greetings to thank you cards – all which can be personalized with custom messages – Card Gnome takes the casual simplicity of online buying and personalizing it for card buyers who want to send a real card for a special occasion, but don't have time to shop in a retail card store.
"Chad (Chad McGimpsey, Card Gnome Co-founder) and I have always been fascinated by the idea of bridging the gap between the digital and physical worlds," said Joel Wishkovsky, Co-founder of Card Gnome. "At first we tried to create a marketplace for artists, singers and other creatives to sell their services. One artist asked us if we could sell his art as high-end greeting cards, so we happily obliged. As we got deeper into how to implement it, we realized the power of its potential. We want to do for greeting cards what Netflix did for movies: Make selecting and buying quality cards easy and gratifying by bringing the distribution online, making the selection process simple with easy online tools, and creating a gratifying user experience through customization."
Card Gnome cards are printed on recycled paper using organic inks and powered by 100% wind energy. What's more, Card Gnome cards are created by talented, independent artists who are offered unique profit-sharing opportunities – unlike the token royalties typically paid by major card companies who undervalue their artists. Because Card Gnome appreciates its community of talented artists, each one is prominently featured on the back of every card they have designed; keeping true to Card Gnome's mission of building a sustainable organization that creates value for artists, customers, and employees, alike.
Card Gnome works with non-profit organizations and schools to create greeting card fundraisers using their efficient online ordering system, which allows nonprofit partners to set up their own customized "shops" – where their supporters may easily buy cards that benefit their causes. Soon, customers will also be able to add donations in the recipient's name to each of their card purchases. Card Gnome provides nonprofits, schools and clubs with helpful assistance in running their Card Gnome fundraisers effectively.
Card Gnome is aware that card giving is a time-honored tradition that begs to catch up with our digital reality. Whether you want to express your love, gratitude, respect, or condolences – an e-card is a poor substitute for the real thing. Card Gnome makes card giving easy and personal.
Friend Us & Follow Us:
http://www.facebook.com/cardgnome
@cardgnome on Twitter
Valentine Day Cards can be easily found here: http://www.cardgnome.com/holidays/valentines-day
Press Inquiries:
Brett Greene or Kathleen May
Hip Chameleon PR & Marketing
PR (at) HipChameleon (dot) com
800-430-9290
# # #