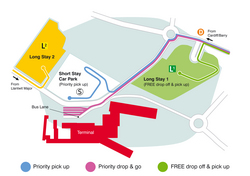 (PRWeb UK) July 1, 2010
Construction work on a new layout outside Cardiff Airport's terminal building has been completed and, from Monday, 5 July 2010 new Priority drop & go and Priority pick up areas will come into operation. A fee of £1 will be charged.
Visitors to the Airport will have the option of using the new Priority drop & go and Priority pick up areas outside the terminal building, or a free drop off & pick up area in Long Stay 1 car park, a short distance from the terminal building.
New highway signs have been erected on all approach roads and within the airport site directing visitors to the new parking facilities and providing information regarding the new drop off and pick up options.
The construction work was necessary to comply with government advice on airport security requirements which included increasing the distance between vehicles and the terminal building, meaning the existing layout had to be redesigned.
The Free drop off & pick up area will be available in the renamed Long Stay 1, formerly the Long Stay 2 car park, and a free special assistance vehicle for passengers with restricted mobility will also be available. The first 20 minutes will be free of charge with the usual parking rates applied thereafter.
Access to the Priority drop & go area in front of the terminal building will be available for up to 10 minutes, at a charge of £1 and 20 minutes for disabled blue badge holders. The Priority drop & go area will be barrier controlled where those wishing to use the facility will simply slot in a £1 coin into the barrier on exiting the area in front of the terminal building.
For the Priority pick up area paying the £1 fee will entitle those picking up passengers 20 minutes in the short stay car park, located close to the terminal building. After 20 minutes parking will be charged at the standard tariff.
Other UK airports such as Birmingham, Edinburgh, Newcastle and London Luton all operate similar procedures and charges for drop off and pick up of passengers.
As part of the redesign the existing car parks have been renamed and colour coded, with new signage installed:
Long stay 1 (yellow) = Long stay 2
Long stay 2 (green) = Long stay 1
Margaret James, Head of Customer Services at Cardiff Airport said: "This work forms part of the long term development of Wales' national airport and is necessary to comply with the latest Government security advice.
"With new signage on the approach roads and on the Airport site these new arrangements are designed to provide options for those dropping off or picking up passengers. Those using the long-term parking facilities will not be affected by these changes."
The work started in April and was completed within the three month construction schedule.
Notes to Editors
Interviews are available with Margaret James, please contact the Cardiff Airport press office for details on 01446 729 311.
Passenger traffic at Cardiff Airport reached over 1.6 million in 2009 and the airport directly supports over 1,000 jobs in South Wales.
Cardiff Airport is part of TBI, which owns, operates or provides services at eight airports in four countries.
TBI is a company owned by abertis, (90%) the European leader in infrastructure management, present in 17 countries and three continents, and AENA (10%) the Spanish airports operator. Its activities, including those of TBI, extend to 30 airports in nine countries.
###