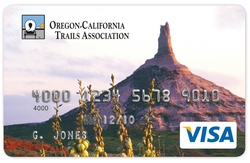 Until now, only large nonprofits could offer an affinity credit card. With CardPartner's help, we can now offer our supporters a high-quality credit card with five design options. Best of all, our program was up and running in a month
NEW YORK (PRWEB) July 24, 2008
Each group earns $50 per activated card, plus an ongoing portion of each card's monthly charge volume. The groups are typical in size of the nearly two million "micro-affinity" groups in the United States that are today underserved by major banks unable or unwilling to work on the scale CardPartner.com seeks.
"Until now, only large nonprofits could offer an affinity credit card. With CardPartner's help, we can now offer our supporters a high-quality credit card with five design options. Best of all, our program was up and running in a month," says Matt Ferraguto, Director of Communications for Reach Out and Read, Inc.
For cardholders, the programs offer:
No annual fee 0% APR on purchases and balance transfers for the first six months (thereafter the APR will vary based upon the Prime Rate plus 5.90%. As of June 1, 2008, the APR for both purchase and balance transfers is 11.15%. Balance transfer offer limited to balance transfer requests submitted with application, from an issuer other than UMB Bank, n.a. or its affiliates). Purchase protection Zero liability protection for unauthorized purchases Emergency cash and card replacement Lost/stolen card reporting service 24-hour roadside assistance Warranty manager service Lost luggage replacement Douglas Davis, CardPartner.com senior director of marketing, says the company turns the affinity credit card model inside out. "CardPartner is different from other affinity credit card companies. We supply groups with the tools to create and market their own cards, we connect groups with competitive credit products, and we never ask for a group's membership lists. The CardPartner model suits every organization, but it's especially appealing to small and mid-size nonprofits, credit unions, fraternal groups, private schools, and others."
About CardPartner.com
CardPartner, Inc. (http://www.cardpartner.com) is an online company that specializes in helping smaller U.S.-based membership organizations and charities create custom Visa credit card programs. CardPartner, Inc. is a unit of the privately held Serverside Group, a technology provider to many of the world's leading banks. Visa credit cards offered through CardPartner are issued by UMB Bank, n.a (NASDAQ - UMBF), headquartered in Kansas City, MO. UMB Bank approves credit decisions, grants credit, and manages the administration and cardholder service for card programs offered by CardPartner.
About The Oregon-California Trails Association
The Oregon-California Trails Association (OCTA) (http://www.octa-trails.org) is the pre-eminent guardian and promoter of the inspirational story of the 19th century westward American migration, which is unique in world history. The association's mission is to protect the Historic Emigrant Trails legacy by promoting research, education, preservation activities and public awareness of the trails, and to work with others to promote these causes. OCTA is located on the grounds of the National Frontier Trails Museum in Independence, MO, where the group also houses its Merrill J. Mattes Research Library.
About Reach Out and Read
Reach Out and Read (ROR) (http://www.reachoutandread.org) is a national nonprofit organization founded in 1989 at Boston City Hospital through a collaboration of pediatricians and early childhood educators. ROR trains doctors and nurses to advise patients about the importance of reading aloud and give books to children at pediatric check-ups from six months to five years of age, with special focus on children growing up in poverty. ROR helps families and communities encourage early literacy skills so children enter school ready to succeed. ROR programs are located in nearly 3,800 hospitals and health centers in all 50 states. ROR distributes more than 5.4 million new books to more than 3.3 children annually.
MULTIMEDIA GALLERY http://www.businesswire.com/cgi-bin/mmg.cgi?eid=5739191