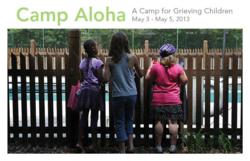 Savannah, GA (PRWEB) April 04, 2013
Hospice Savannah prides itself on its many initiatives to serve children affected by death and illness in their families. Camp Aloha, an annual overnight camp for children and youth aged 6 to 17, who have experienced the death of a loved one within the last 18 months are invited to attend a weekend overnight camp. The camp is organized by Hospice Savannah's Full Circle bereavement staff and volunteers.
Each May, trained volunteers and professionals come together to provide a weekend of therapeutic fun and group process to help children cope with the death of a loved one.
Camp Aloha will be held May 3 through May 5, 2013 at the New Ebenezer Retreat Center in Rincon, and is generously funded by donations from the Kaminsky Automotive Group.
For more information about Camp Aloha, please contact Barbara Moss at 912.629.1089 or visit http://www.HospiceSavannah.org/CampAloha.
Hospice Savannah Inc. offers many programs for the community that offer support and resources to the ill, dying and the families of those loved ones. Please see their website for more information about in-home care and hospice health care at http://www.hospicesavannah.org.
About the company:
Hospice Savannah, Inc., a not for profit organization, provides the community with the best services and resources on living with a life limiting illness, dying, death, grief and loss. Hospice Savannah, Inc. offers care for the dying, end of life care, home health care, hospice health care, and more. Medicare, Medicaid and most private insurance will cover Hospice Savannah's care; however, care is provided regardless of ability to pay. To start the process of receiving hospice care from Hospice Savannah at home, simply call our Referral Center 912.355.2289.