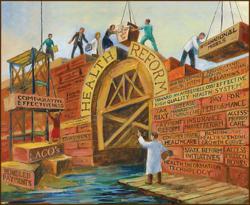 Scottsdale, AZ (PRWEB) May 13, 2013
Health BI the developer of Transitional Care Management Technology Solutions for the Population Health Management market will demonstrate the HealthCollaborate™ Care Coordination System in booth #25 at the Accountable Care Organization Summit, June 12-14 in Washington, DC.
Health BI's HealthCollaborate™ Care Coordination System is a fully automated care coordination and transitional care management solution.
HealthCollaborate™ enables ACOs to efficiently and cost effectively transition large population of patients from hospitals to ambulatory and community care settings.
Built on care coordination best practices, HealthCollaborate™ provides ACOs an all-in-one hosted solution that includes: Transitional Care Management Engine and Dashboard, Patient Engagement Modules, Secure Messaging Platform, Care Coordination Data Analytics/reporting and more.
Health BI helps Accountable Care Organizations to:

Reduce Hospital Readmissions
Automate Existing Care Coordination Manual Processes
Coordinate Care for Large Population of Patients
Increase Care Coordination Team's Productivity
Reduce Care Coordination costs
Enhance Transitional Care Management Services