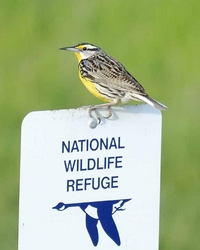 National Wildlife Refuges bring in over 41 million visitors a year and pour nearly two billion dollars a year into local economies. Every dollar invested in the Refuge System returns, on average, $4 to local communities.
Washington, DC (PRWEB) March 8, 2010
The U.S. National Wildlife Refuge System, which fuels the economic engine of local communities in all 50 states, is under threat from an Obama Administration proposal to significantly cut the system's budget. A report to be released to Congress today by the Cooperative Alliance for Refuge Enhancement (CARE) warns that unless Congress acts to restore funding for the Refuge System, the economic benefits that refuges provide could be in jeopardy at the very time they're needed most. Also at risk are the lands, waters, wildlife, birds and recreation opportunities that the more than 550 refuges in the 150-million-acre Refuge System were established to protect.
The report, Restoring America's Wildlife Refuges 2010, notes that despite recent funding increases by Congress, the Refuge System is still funded at a level far below what is needed to fulfill some of its most basic functions. Because the Refuge System needs at least $15 million annually to maintain management capabilities in the face of inflation, if Congress does not act to reverse the administration's proposed cuts ($3.3 million below FY 2010 funding levels), those cuts combined with inflation will reduce the Refuge System's spending power by at least $18.3 million, warns CARE. That could translate into more crime on refuge lands, fewer programs for visitors, continued deterioration of refuge facilities, and a loss of protection for the birds, animals, fish, and plants—many of them already endangered or threatened—that call wildlife refuges home.
Economic Benefits
According to a 2006 economic analysis by the U.S. Fish and Wildlife Service, 87 percent of the $1.7 billion in annual refuge-related revenues is spent by travelers from outside the communities where refuges are located. This spending created almost 27,000 jobs and generated approximately $543 million in employment income.
"National Wildlife Refuges bring in over 41 million visitors a year and pour nearly two billion dollars a year into local economies," says Evan Hirsche, President of the National Wildlife Refuge Association and Chair of the CARE coalition. "Every dollar invested in the Refuge System returns, on average, $4 to local communities. This is no time to cripple a critical federal program that provides such an impressive return on investment."
Key Findings
In making the case for increased Refuge System funding, the CARE report found:

Refuges face a $3.7 billion backlog in deferred maintenance and operations funding. Washed-out trails, leaking roofs, closed roads, and broken equipment are just a few of the more than 11,000 problems currently waiting to be addressed on refuges nationwide. Unless funding is secured to address the backlog, many refuge facilities could deteriorate beyond repair.
Crime is a big problem in the Refuge System, yet only 213 officers patrol its more than 150 million acres. A minimum of 209 additional officers are needed (at an additional annual cost of $31.4 million) to protect refuge visitors and respond to crimes that include drug production and dealing, wildlife poaching, illegal border activity, assaults, and a variety of natural resource violations.
The Refuge System is fighting a losing battle against invasive plants and animals. Approximately 2.3 million acres of refuge lands are overrun with non-native invasive plants, while more than 4,400 invasive animal populations ravage millions more acres. The Refuge System needs at least $25 million per year to treat just one-third of its infested plant acreage and begin low-level control of invasive animals.
There has been a dramatic increase in oil and gas drilling on 155 refuges, but the Refuge System is not well equipped to oversee these activities or clean up degraded sites. Some $15 million per year is needed to adequately oversee oil and gas operations on wildlife refuges.
With the recent addition of more than 50 million acres of marine monuments in the Pacific Ocean, the Refuge System faces increased management, coordination, restoration, and law enforcement challenges. These increased responsibilities carry a price tag of between $18 and $35 million annually.
CARE has urged that Congress boost refuge operations and maintenance funding to $578 million for FY 2011. These funds are needed to provide nature programs to the public, maintain high water quality, complete critical habitat restoration projects, and properly patrol and enforce laws in the Refuge System. Since 2008, Congress has begun to reverse a damaging trend of budget cuts that started in 2003. "We need to maintain this momentum and continue to invest in these special places at a level that recognizes their importance to so many Americans," notes Hirsche.
###