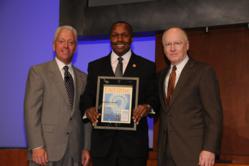 "CareConnect was chosen based on its uniqueness, innovation, and business excellence. CareConnect is truly a program ALFA believes will advance excellence in senior living."

Jamison Gosselin, VP of Marketing, Assisted Living Federation of America
Liberty Township, OH (Vocus/PRWEB) April 14, 2011
ESCO Technologies LLC proudly announces that its CareConnect™ managed communications services for senior housing, which includes a free nurse call system, and affordable telephone, Internet, and television services, has been chosen by the Assisted Living Federation of America (ALFA) as its 2011 Best of the Best Award winner for Technology Adoption.
Jamison Gosselin, ALFA's Senior Vice-President of Marketing summed up ALFA's assessment of CareConnect's winning business services in this way: "CareConnect was chosen based on its uniqueness, innovation, and business excellence. CareConnect is truly a program ALFA believes will advance excellence in senior living."
Jerry Grove, President of ESCO Technologies in Liberty Township, Ohio, beamed, "It's a great honor to be recognized by ALFA with such a prestigious national award. We're proud to offer advanced communications technology and services to senior housing residents at less cost. Seniors appreciate getting great telephone, Internet, and TV service, with lots of free upgrades, for less cost, especially in this economy."
Ron Wagner, President of ESCO's parent company, Setzer Corporation of Dayton, Ohio, explained, "senior housing communities across the country continue to call ESCO to find out how they, too, can receive our state-of-the-art, campus-wide emergency response system that we currently provide at no cost. The technology is impressive, but really, it's the quality of life enhancements for staff, residents, and their families of which we're proudest."
Mr. Grove offered this promise, "We pledge to continue to live up to the high standard to which ALFA and our clients hold us. Our goal is to make life-enhancing, quality telecommunications and life-safety services affordable to those in senior living communities across America."
The Award was presented to Mr. Grove on April 6 at the annual ALFA Conference, in Orlando,FL. Presenting the Award were ALFA President & CEO Rick Grimes, and Brookdale Senior Living CFO and Co-President Mark Ohlendorf, who is also the incoming Chairman of the ALFA Board of Directors. That Mr. Ohlendorf presented the Award to ESCO was coincidental but seemed fitting, given that, just last fall, Brookdale inked a major deal to implement the CareConnect by ESCO suite of communications services across a significant number of its senior housing communities.
About the Assisted Living Federation of America
The Assisted Living Federation of America (ALFA) is the largest national association exclusively dedicated to professionally-managed senior living communities and the seniors and families they serve. Since 1990, ALFA has worked to educate policymakers and consumers by advocating for choice, accessibility, independence, dignity, and quality of life for seniors. ALFA's member-driven programs promote business and operational excellence through education, research, publications, professional networking and online tools designed to foster collaboration and innovation in the field of senior living. Visit ALFA's Web site at http://www.alfa.org.
About CareConnect™ by ESCO Technologies LLC
CareConnect by ESCO Technologies is the nation's only single-source provider of a comprehensive suite of communications and entertainment solutions to the senior housing industry. ESCO's revolutionary and award-winning CareConnect managed services program provides next-generation emergency response systems, business and residential telephone systems, high-speed Internet, and customized satellite television services to assisted, independent and congregate care living facilities.
For communities that qualify, CareConnect installs and services its state-of-the-art telecommunications equipment at absolutely NO capital cost to the community, while reducing business and resident phone, Internet and TV expenses by up to 40%.
By serving senior housing communities from coast to coast, CareConnect is able to provide its customers with lower costs, better technology, greater choice, new revenue streams and other sustainable, competitive advantages. CareConnect communities appreciate the significant overall cost-saving and the community-enhancing benefits they enjoy such as: Free e-call systems, Free campus-wide pendants, Free long distance, a Free Community TV channel, and customized TV packages for residents. Equally important for large communities, CareConnect's * 1-2-3, one-call 24/7 tele-support ensures a simple, smooth response for all staff and resident telecommunications inquiries.
For more information, visit CareConnectbyESCO.com and call (800) 281-4816 to find out if your senior living community qualifies for CareConnect's FREE community-wide telecommunications and emergency response system upgrade.
# # #