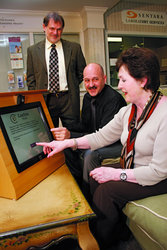 Today, the global healthcare environment stands at a crossroads. Rising costs, aging populations and an antiquated healthcare system have put pressure on governments, businesses and society to make significant changes in the delivery of care
Williamsburg, VA (PRWEB) March 30, 2009
Williamsburg, VA, March 30, 2009 -- CareData Trak announces the launch of MySeniorCare, a self-administered, web-based screening tool developed to detect common geriatric syndromes in individuals aged 55 and older that may go undetected by themselves or a healthcare professional. The screening results presented in a customizable report are designed to answer the question that healthcare providers ask everyday: "Is the aging patient at risk?"
Developed in close cooperation with the Center for Excellence in Aging and Geriatric Health (CEAGH), The Merck Institute on Aging and Health and the Eastern Virginia Medical School's Geriatric Practice, MySeniorCare meets the growing demand to effectively screen seniors for debilitating health risk factors such as falls, incontinence, depression and dementia. Validated in independent clinical studies conducted by these organizations, MySeniorCare has been shown to deliver a 60% improvement in diagnosing incontinence and a five-fold improvement in detecting seniors at risk for falls.
MySeniorCare is an essential tool for organizations that deliver or facilitate healthcare to the elderly, such as retirement communities, assisted living facilities, nursing homes and other medical practices. Today, many senior living facilities and eldercare healthcare providers are experiencing shortages in caregiver staff and primary care physicians; and daily care staff members are often unfamiliar with what constitutes the aging process. For staff that has little or no expertise in recognizing the common ailments of aging, MySeniorCare automates the geriatric screening process and provides the tools necessary to detect these common geriatric syndromes in the early treatable stages.
By using MySeniorCare, healthcare organizations can:
-- Mitigate Liability - Meet targeted state regulatory and licensing requirements, leverage reporting of screening data to show treatment-plan progress, reduce liability by mitigating medical errors
-- Increase Efficiency and Save Time - Obtain early, accurate at-risk diagnoses faster through automated screening processes; conversion from paper to electronic processes saves time, money and paperwork
-- Reduce Cost - Mitigate chronic healthcare cost due to missed diagnoses; save money by maximizing staff expertise
-- Improve Quality of Care - Customize care treatment plans based on screening data and reporting for individuals and populations
-- Leverage Existing Staff - Reduce staff hours needed for screenings and maximize physician visits and staff daily care regimens
-- Improve Decision Making - Improve decision making by tracking at-risk diagnosis over time
-- Identify Need for Ancillary Therapies - Improved diagnostics provides evidence-based data to support the need for ancillary therapies.
"Doctors are under increasing pressure to do more with less. With insurance companies lowering fees to doctors for services, doctors must see more patients in order to keep their practices thriving," said Dr. Stefan Gravenstein, world-renowned geriatrician and professor at Brown University. "Less time with patients could mean missing diagnoses that otherwise would have been detected. By accurately identifying risk factors in advance, medical errors are reduced, thereby mitigating liability and improving patient care, treatment and quality of life. Innovations in healthcare technologies, like MySeniorCare from CareData Trak, can bridge the gap by capturing more accurate diagnoses, earlier for the patient and faster for the doctor. Because MySeniorCare directly engages the patient, it improves healthcare provider's and senior living facility's ability to identify patients at risk for complications -- before they occur -- as well as encouraging the right conversation with the older patients and their families on how to prevent those outcomes."
The MySeniorCare kiosk includes a personal computer and touch-sensitive monitor housed in a standalone, easy-to-deploy wood cabinet. The kiosk's decorative design provides the visual appeal of furniture, allowing senior living and healthcare facilities to maintain a home-like appearance while engaging the senior in a reassuring manner.
Designed to accommodate vision and hearing impairments, the touch screens deliver large fonts, inviting colors and the ability to scroll over or touch the screen text to activate audio reading of the material. Once the survey is started by a healthcare professional, patients move easily through the interview questions. Because the computer asks the questions, the patient is free to answer as honestly as possible without having to interact with a person to whom they may not want to reveal personal information due to embarrassment or fear. Once the survey is complete, the system generates a report showing an at-risk result for each syndrome. The web-based reporting feature can be used to show screening results over time, applied treatment plan success and improved at-risk diagnostic results through systematic data collection and tracking.
"Today, the global healthcare environment stands at a crossroads. Rising costs, aging populations and an antiquated healthcare system have put pressure on governments, businesses and society to make significant changes in the delivery of care," explains Dexter Klock, Founder and CEO of CareData Trak. "Given the slow adoption of electronic health records by healthcare providers due to the high cost of acquiring and installing vendor solution platforms, the larger vision of the healthcare industry is looking to bring the technology and the creation, management and control of a consumer's healthcare record to the consumer at the edge of the network, that is, the patient. CareData Trak's automated screening tool plays a key role in the transformation of the healthcare industry by empowering seniors to become engaged and proactive in their healthcare, and by empowering healthcare providers to use technology to do more with less while still increasing their quality of care."
Pricing and Availability
The subscription cost for MySeniorCare is $600 per month, per kiosk for a three-year term and includes equipment, software, installation and training. Software content and support includes four geriatric syndrome screening modules, product updates, secure web-based reporting and help desk support services. The system will be generally available in March, 2009. Inquiries should be directed to salesinfo (at) caredatatrak.com.
About CareData Trak, LLC:
Founded in 2006, CareData Trak (caredatatrak.com) is a healthcare IT company focused on diagnostic decision support software that develops self-administered, web-based diagnostic screening tools dedicated to improving the quality of healthcare to the elderly and reducing the cost to both providers and patients. CareData Trak has delivered projects for The Institute for Optimal Aging of Brookdale Senior Living, the Merck Institute on Aging and Health, the Peninsula Agency on Aging, The Center for Excellence in Aging and Geriatric Health (CEAGH), the Department of Social Services and Department of Health for Fairfax County, Virginia and the Virginia Department of Corrections.
About the Center for Excellence in Aging and Geriatric Health
The Center for Excellence in Aging and Geriatric Health (CEAGH) is a non-profit 501(c)3 organization funded by a coalition of healthcare, educational, civic groups, research and assessment services. The Center is dedicated to improving the quality of life for older adults by promoting understanding of the aging process and how it impacts not only older adults but the entire community. To learn more about CEAGH, go to http://www.excellenceinaging.org.
About Dr. Stefan Gravenstein, M.D.:
Stefan Gravenstein, M.D., M.P.H., is a nationally renowned geriatrician and professor at Brown University with extensive experience related to the design, development and implementation of nursing home quality initiatives. He also serves as clinical director, Quality Partners of Rhode Island (QPRI), which has provided national leadership in quality improvement in nursing homes. He also is currently a partner in the Nursing Home of the Future (NHoF) project which has created a real-world laboratory for developing and testing new solutions for improving elderly care and using an integrated design and observational approach to understand what it means to live in an assisted living or nursing care home. To learn more about the Nursing Home of the Future project, go to http://www.businessinnovationfactory.com.
Contact:
Debbie Gee
757-259-0004 x1051
debbie.gee (at) caredatatrak.com
###