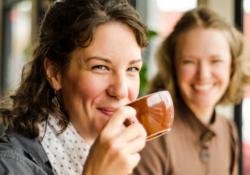 Depending on reactions to one's new career choice, talking about career transition can be stressful. These two proactive strategies can help.
Portland, OR (PRWEB) November 30, 2012
During the holidays, people considering a career change can use two proactive strategies to help reduce stress. Career guidance expert Career Key, http://www.careerkey.org, recommends: (1) anticipating and planning how to handle career decision questions from family and friends, and (2) making a career action plan that includes professional career counseling.
As people gather for holiday events, those changing careers will likely have to field questions about work from family and friends. Depending on the reaction to a new career choice or career exploration, talking about career transition can be stressful. These two strategies can help reduce anxiety during this busy, social time of year:
Strategy #1. Anticipate how to handle questions from family and friends about one's career and any announced career change.
Part of making a high-quality career decision is considering a career option's "consequences." This means asking questions like, "What do important people in my life think about my career decision or options?" "How will I deal with any negative reactions?" The Career Key's article on "High Quality Decision Making" has a free, download "Decision Balance Sheet" that lists these types of questions.
To avoid the career change topic entirely, it is best to rehearse a graceful response. Here are some possible questions and answers:
Q: "How is your job search [or career change] going?" or "Still unemployed?"
A: "My job search [or career change] is going well; I appreciate you asking." And if they follow up, a polite reply and deflection might be, "You know, I've been working pretty hard recently on researching careers – but I'm taking a break from it over the holidays. Are you doing anything fun – taking any trips this Christmas?"
Q: "Are you still thinking about quitting your job to be a starving artist?"
A: "Yes, and thank you for asking." Humor can also be a useful way to deflect the conversation. "Did you know starving artists still get tax breaks if we go over the fiscal cliff?" Then change the subject.
Strategy #2. Make a career action plan that includes professional career counseling.
One of the least discussed but significant aspects of career change is the influence of important personal relationships (a spouse, close friends, parents) on the quality and speed of a transition. A professional career counselor is trained to give clients the support they need to make a good decision, along with help managing important relationships and their impact on career planning.
Having someone independent to be a sounding board and give expert advice in the process will help alleviate stress. The Career Key website has advice on how to choose a professional counselor.
Creating an action plan also helps gives a sense of momentum and accomplishment. Even if one is not sure that changing careers is the right decision, gathering information about options is in itself, a step in the right direction. Career Key's website offers a three step guide on how to choose a career, including how to research career options, that can serve as a starting point.
About The Career Key®
Since 1997, Career Key has been the #1 Internet source for helping people choose careers and college majors. Advertising and registration-free, it offers a valid career test, information, and advice articles based on the best practices and science in the field.