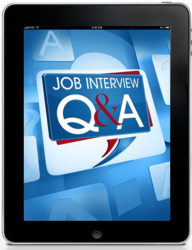 99% approval rating has been received on this tool by the 3000 members that have tried it.
Dallas, Texas (PRWEB) February 20, 2013
Career Confidential is offering all job seekers an opportunity to try the Job Interview Questions and Answers, the best iPhone App on the market for Apple Apps, as a complimentary introduction to many more tools created by Career Coach and CEO, Peggy McKee. They say practice makes perfect and with this innovative tool, every potential candidate for any position can do just that.
This interactive tool will ask the job seeker one of many tough interview questions and allow the response to be recorded. With that recording, the job seeker can see what the interviewer sees and hear what the interviewer hears. The job seeker can use this tool, the best iPhone App from Career Confidential, to perfect the answer and change any facial expressions or mannerisms that may be a turn off for potential employers.
The job seeker using this interactive tool can critique themselves with more insight by listening to how Peggy McKee, the experienced Career Coach for over 13 years, would answer the question. With this tool, the best iPhone App for Apple on the market, and Peggy's expertise, a prospective candidate can learn how to adapt answers to what hiring managers want to hear the most so that the best impression is the first impression. This tool can be what helps a job seeker become a new hire.
A 99% approval rating has been received on this tool by the 3000 members that have tried it. Interview skills were greatly improved by using it, thus making it the best iPhone App for Apple, a job seeker could use. In just minutes, job seekers can change and fine tune the answers to all those interview questions that can be tough. Any prospective candidate can strengthen confidence and secure the interview as the top candidate by using the best iPhone App on the market by Career Confidential.
Following step-by-step instructions, after each mock-interview question is answered by the job seeker and answer is recorded, the opportunity to replay that answer then compare to Peggy McKee's answer. Peggy will explain why she answers the question they way she recommends and offers insider tips and tricks to answering the question. With over 13 years experience as a Career Coach, her expertise along with this tool for Apple Apps, makes a combination that makes a job seeker an employee.
The best iPhone App created by Career Confidential is easy-to-use and every job seeker that uses it will benefit. Peggy's expertise will guide job seekers to learn how to make all responses standout. A short video of Peggy McKee gives job seekers the inside track on what hiring managers want to hear in response to those tough questions during an interview. Knowing how to word the answers and the strategy in delivering the answers is key in landing the job.
All around the world, this Apple App, the best iPhone App there is, is showing prospective job candidates to be confident, smooth and strong with answers to the tough interview questions. Those who have downloaded this app have improved job interview skills ten-fold.
# # #
Career Confidential is committed to getting the unemployed back to work in 2013. After assisting over 10,000 people get a job, Career Confidential has set a goal to get 10,000 more people their dream jobs in 2013. Career Confidential exploded in 2012 with a 94% growth rate over 2011 in a down economy.
Based in Texas, Career Confidential specializes in the techniques and tools needed for a job search to be successful. This product is a customized and proven system that gives job seekers the power they need to nail the job they want.
With the guidance of CEO Peggy McKee and CTO Carl Chapman, two nationally recognized experts in the field of job search training, Career Confidential was founded in 2009 so that the original product, The 30/60/90 Day Business Plan, could be distributed more widely among job seekers across the world. From that one product, they now offer over 30 products that teach techniques and tricks to help every job seeker to land that perfect job.
Peggy McKee is available for interviews or answering questions about this topic overall, give Zanetta Siciliano a call at 1-800-691-2562.