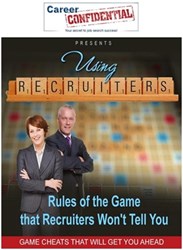 a guide that teaches job searchers how to leverage recruiters to get their dream jobs
GUNTER, Texas (PRWEB) December 12, 2012
Today's job market is highly competitive with more people looking for jobs than there are jobs available. The e-book Using Recruiters: Rules of the Game Your Recruiter Won't Tell You, a guide that teaches job searchers how to leverage recruiters to get their dream jobs, has recently been released by Career Confidential, a leading online resource for job seekers.
The e-book is available on Amazon at http://amzn.com/B007ZZIT60.
Using Recruiters: Rules of the Game Your Recruiter Won't Tell You will stop the cycle of filling out endless online applications and sending out hundreds of resumes, by arming job seekers with the skills they need to work with recruiters.
This e-book will equip job seekers with the skills they need to build good working relationships with recruiters, and will show them how to incorporate recruiters into their professional networks.
Using Recruiters will show job seekers exactly how a recruiter fits into their jobs searches.
Visit http://www.careerconfidential.com or http://www.youtube.com/careerconfidential for free job search tips.
# # #
Career Confidential is a rapidly growing job search training company based in Texas that specializes in providing job seekers with powerful and customizable tools and techniques to get the jobs they want fast.
Since nationally-recognized recruiting and job search experts Peggy McKee (CEO) and Carl Chapman (CTO) founded Career Confidential in 2009, Career Confidential has grown from one product, the 30/60/90-Day Business Plan, to more than 30 products to guide candidates through every step of the job search.
Career Confidential helps job seekers worldwide. If you would like more information about this topic, or to schedule a coaching session, please call Peggy McKee toll-free at 1-800-691-2562 or e-mail Peggy at Peggy(at)CareerConfidential(dot)com.