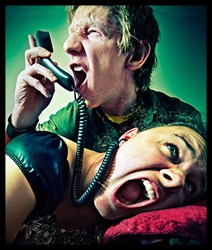 Those job seekers will leave this webinar with more knowledge than could ever be learned elsewhere.
Dallas, Texas (PRWEB) February 21, 2013
The job market today is tougher than it ever has been. Employers are screening prospective job applicants as quickly as possible. The phone interview is the most used method. Companies will weed through stacks of resumes and select a handful for a phone interview. That phone interview will lead to the face-to-face interview, or it won't. Register for the live webinar: Phone Interviews: 25 How To Tips You Need Now.
No matter how long a job seeker has been in the workforce, the phone interview can be frightening. When a job seeker isn't prepared, they can end up tongue tied, give the wrong response or even handle the correct response poorly. A phone interview can lead to an invitation for a face-to-face (f2f)-interview or it can leave them empty handed.
Career Confidential has created a system that can help any job seeker get through the phone interview with confidence and ease, and they are offering a complimentary webinar on February 26, 2013 titled Phone Interviews: 25 How To Tips You Need Now.
This webinar will be hosted by Peggy McKee, the CEO and a Career Coach, who will give over 25 tips and tricks to job seekers. These tips and tricks tell the job seeker what hiring managers want to hear in a phone interview. Any job seeker who has had an unsuccessful interview knows these tips are valuable. Register here: http://careerconfidential.com/phone-interview-tips-training-webinar/ with just a first name and email address to attend this live webinar on February 26, 2013 and learn the secrets to a successful phone interview from Career Coach Peggy McKee.
Attending this live webinar on Tuesday will prepare any job seeker for the next phone interview. Giving the right answers in the right manner can be simple, but too many job seekers don't tell the hiring managers what they want to hear. For the job seeker that has gone through countless phone interviews with no invitation for a f2f-interview, this complimentary webinar is a valuable source of information. With the phone interview, hiring managers are blind to the job seeker's expressions. The expressions they have would tell so much in a f2f-interview.
Just answering the simple questions correctly can have so much impact in getting the f2f-interview. Even simple questions like "Tell me about yourself." Peggy McKee with Career Confidential has a method to the madness of the phone interview that can make the job seekers next phone interview the last one.
As a Career Coach with over 13 years' experience, Peggy McKee has the experience and expertise in the area of phone interviews and will share this with job seekers in a live webinar on February 26, 2013. With her knowledge, Career Confidential offers this live webinar complimentary for every job seeker that registers. Those job seekers will leave this webinar with more knowledge than could ever be learned elsewhere.
# # #
Career Confidential is committed to getting the unemployed back to work in 2013. After assisting over 10,000 people get a job, Career Confidential has set a goal to get 10,000 more people their dream jobs in 2013. Career Confidential exploded in 2012 with a 94% growth rate over 2011 in a down economy.
Based in Texas, Career Confidential specializes in the techniques and tools needed for a job search to be successful. This product is a customized and proven system that gives job seekers the power they need to nail the job they want.
With the guidance of CEO Peggy McKee and CTO Carl Chapman, two nationally recognized experts in the field of job search training, Career Confidential was founded in 2009 so that the original product, The 30/60/90 Day Business Plan, could be distributed more widely among job seekers across the world. From that one product, they now offer over 30 products that teach techniques and tricks to help every job seeker to land that perfect job.
Peggy McKee is available for interviews or answering questions about this topic overall, give Zanetta Siciliano a call at 1-800-691-2562.