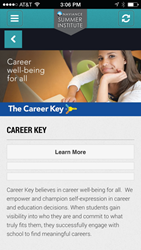 We're so pleased to support and be a part of this premier event for Naviance partners, school counselors, and educators. Vice President, Juliet Jones
Portland, OR (PRWEB) June 30, 2015
Career guidance leader Career Key, http://www.careerkey.org, is pleased to announce its corporate sponsorship of the Naviance Summer Institute (NSI) on July 6 - 9, 2015 in Tuscon, Arizona. Career Key has partnered with Naviance for over 10 years to deliver its respected career assessment to middle and high school students for long-term success.
Leading college and career readiness company Hobsons holds this users conference on an annual basis for its Naviance K-12 college and career readiness software platform. School counselors, district administrators, educators and Hobsons staff attend. On behalf of Career Key, Vice President Juliet Wehr Jones will attend and release a new infographic about the American School Counselor Association's new Mindsets and Behaviors. It will be available first for download from the NSI conference mobile app; later, it will be released to the general school counseling audience on Career Key's website.
The Career Key career test is a supplement to the software platform as part of the Naviance Marketplace. The Marketplace offers an easy way for schools and districts to find best-in-class tools that are fully integrated with Naviance to support their college and career readiness efforts.
If a school or district uses Naviance, they can easily add The Career Key career assessment to their platform to deliver even greater results for their students. Published research validates Career Key's success with middle and high school students. In 10-15 minutes, the Career Key test encourages exploration of a variety of occupations and accurately matches students to the careers that fit them best. Studies show this close Holland personality-career match leads to higher job satisfaction, job performance and salaries.
About The Career Key
Career Key empowers and champions students' self-expression in career and education decisions. Our short, valid career assessment helps deliver greater clarity to students confronting a confusing, stressful path to college and careers. Founded by nationally recognized counselor educator Dr. Lawrence K. Jones, NCC, Career Key relies on the best science and counseling practices to help students find career well-being in the 21st century.