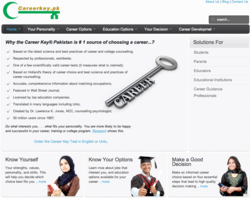 I am so pleased to work with Dr. Sadeq Hussain and Mr. Imran M. Ismail on the development of an Urdu translation and Pakistan English adaptation of The Career Key. - Dr. Lawrence K. Jones, NCC
Portland, Oregon (PRWEB) February 28, 2013
Career guidance leader Career Key, http://www.careerkey.org, announces a new Pakistan partnership that offers the first Urdu and Pakistan versions of its popular, scientifically valid career interest inventory. Career Key Pakistan's new website, http://www.careerkey.pk, will offer expert career advice and assessment to Pakistan's public and training programs for Pakistan's career development professionals.
Dr. Lawrence K. Jones, NCC, Career Key's author, says, "I am so pleased to work with Dr. Sadeq Hussain and Mr. Imran M. Ismail on the development of an Urdu translation and Pakistan English adaptation of The Career Key."
The Career Key is a scientifically valid career interest inventory based on the respected Holland's Theory of Career Choice. Dr. Jones, in collaboration with international career development professionals, has adapted and/or translated the Career Key into: Arabic, Canadian, Caribbean, Chinese, Korean, Romanian, Spanish, and Vietnamese. A Turkish version is currently under development. Links to these international versions are found at the bottom of the Career Key home page.
Since creating The Career Key website and philanthropy in 1997, Dr. Jones and his wife, Jeanine Wehr Jones, have supported the Career Key's international use. They believe that all people worldwide deserve economic independence, happiness and career success. Helping others take advantage of science-based career development resources, with proper cultural adaptation, is part of the Career Key mission and core values.
A report called "Translation of The Career Key into Urdu and an Investigation of its Validity and Reliability" has also been submitted for publication in an international scientific, academic journal.
The Career Key is the #1 online source for helping people choose careers and college majors – worldwide, since 1997.