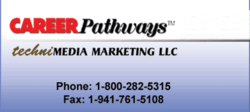 Engaging Career Awareness Tools, Students Enjoy!
Venice, FL (PRWEB) July 09, 2012
The transition from school to work can be daunting for any student. Career Pathways Online offers a helpful tool, as it provides sound advice for students and adults on the importance of evaluating possible career paths. The promotional career DVDs and videos inform, instruct, and encourage junior and high school students on how to select a valuable career. The content emphasizes why it is important to explore career opportunities and provides the necessary tools and further options on developing a career in a specific sector. Also included in this package are reproducible student worksheets. The Los Angeles Internet marketing experts LAD Solutions will be leading the promotion.
Career Pathways videos and DVDs are available as an option to adults and students. The package for adults educates parents, counselors, teachers, business, and industry about the significance of career exploration. Choosing a career path after junior or high school aims to save both the student time and money. Each video or DVD costs $99.95, or there is the option to buy a combination package for $189.95.
Career Pathways Online also offers its 16 Career Clusters package, which follows the Federal Guidelines. It is designed to help 5th grade adults, and the software is designed for use in career labs, guidance offices, and libraries. There is a free demo version available, but it must be ordered via email or telephone. This DVD-ROM supplies information on hundreds of entry, professional, and technical level careers in a wide range of sectors, including hospitality and tourism, marketing, sales, and service, Government and public administration, Education and Training, and many others. Upon clicking one of its clusters, the easy to use interface provides additional information on the working conditions, job outlooks, earnings, employment, training, and its nature of work. The real life testimonials provide encouragement for students who have chosen to learn more about a specific cluster. The assessments and pre/post tests provided by the narrator give the student a chance to put their knowledge to the test. In addition, detailed reports are provided to each student based upon their test results and assessments. The 16-DVD set costs $199.00.
Besides the career videos and vocational cluster DVDs, Career Pathways Online sell a set of 19-laminated career pathways posters and a set of 16-basic posters covering the broader career categories as recognized by the US Department of Education. The Job Readiness Skills Series includes dynamic graphics, high quality audio, an award winning video, a variety of tests, and simple navigation tools to kick start a chosen career path. Some roles will require specific qualifications, which will be further explained.
Expert Internet marketing company LAD Solutions will be promoting the Career Pathways Online brand, which provides a simple and effective option for students and adults to learn the importance of choosing a chosen career sector after junior or high school. If a sector requires additional qualifications, the student will feel more confident about the future.
About Technimedia Marketing LLC:
Career Pathways Online provides career awareness tools for students and adults. The informative videos and DVDs explain the importance of exploring career paths. They are based in Venice, FL.