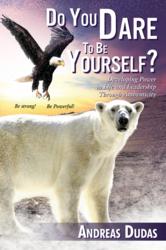 The book can be described as "Who Moved My Cheese" meets "If Life is a Game, These are the Rules.
Pearland, TX (PRWEB) May 18, 2012
Best selling author Andreas Dudas has solutions for those facing a career or life change in his new book, "Do You Dare To Be Yourself? Developing Power in Life and Leadership Through Authenticity." According to Dudas, the book can be described as "Who Moved My Cheese" meets "If Life is a Game, These are the Rules." Based on his real experience gained from all over the world as a project director, life coach and manager in top executive positions, the book offers frank thoughts, vivid examples, concrete advice and mental techniques all designed to inspire people in transition to find their purpose in life. He states, " It is an empowering resource for those willing to step beyond fear and create the real destiny that they want. It is a master plan for living a successful authentic life." The book also defines the question, "What is leadership?" by creating a solid correlation that leadership and authenticity are synonymous.
Dudas wrote "Do You Dare To Be Yourself" in a style that goes beyond standard how to books. "It engages the reader by placing them on a journey to self-authenticity in an allegory format. Making it easy to understand complex principles that have the potential to liberate a person from living an unfulfilled life. The book provides elements of leadership styles, self-help and spiritual wisdom all designed to compel the reader to leave their comfort zone and make the transition to a rewarding life and fulfilling career.""I want to help people find inner peace by living authentically. I want them to find clarity and purpose for life." Says Dudas, who holds a diploma in Mental Training and Coaching. He also has a host of other degrees in civil engineering, leadership, and conflict management.
Dudas believes that Do You Dare to Be Yourself covers very positive transitional considerations such as:
Overcoming fear of change
Stepping into your new destiny
Finding clarity and purpose for life
Following your true calling for a fulfilled life
Gaining more self confidence
Achieving personal wellness
Dudas believes that the road to living a fulfilling life involves overcoming fear, walking in personal integrity and credibility, living true to your values and being determined to get what you want out of life. He believes that the reason there is so much stress and unhappiness in life is because people do not place those values in high regard. They are afraid to move out and are stuck in a life crisis or career crisis. "I have a clear challenge for readers to live their true values and step into a new destiny. This will ultimately help people to achieve personal wellness, real power and mental stability."
Over the last 20 years of his leadership and management career, Dudas has helped thousands of people to live and lead by authenticity. His career has taken him to Latin America, the United States, and the Middle East and throughout Asia.
Bio
Andreas Dudas is entrepreneur, project manager and life coach, and author of the new book, "Do You Dare To Be Yourself? - Developing Power In Life and Leadership Through Authenticity." He is the founder of the BE SHiRO group consisting of various companies in Europe and Asia promoting and developing sustainable energy in emerging markets, and empowering individuals to live authentically and gain real power in life and leadership. The company offers an extremely unique leadership paradigm based on authenticity. Lack of authentic leadership cost companies millions of dollars per year and Andreas' effective style of leadership and training using principles he has developed have been critical in redirecting corporations that have engaged his services. In 2008 he released his German best selling book "Be-Shiro-Unleash The Power of Authenticity." His latest book is the American version of "Be-Shiro." Contact Linda Leon intelligentbuyers(at)yahoo(dot)com for guest appearances or information.