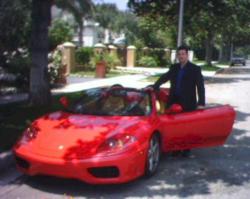 Working with an experienced career coach will help you stand out from the crowd
New York City, NY (PRWEB) April 03, 2013
Headhunter to the stars, Brian Daniel, expands consulting services beyond employers' needs to include career coaching for candidates looking to score the best jobs by working for the high net worth.
Brian Daniel, also known as the dream job guru, is meeting the demands of job seekers and expanding his consulting services to include career coaching. As a former personal assistant to Hollywood A-list celebrities, billionaires and royalty, Brian Daniel has experienced the jet-set life and seen first-hand how the top 1% lives. As the founder of The Celebrity Personal Assistant Network – an employment agency for the high net worth that started in Los Angeles – Brian Daniel now places executive personal assistants with affluent families but is also advising candidates how to be a personal assistant to celebrities, CEOs or high-profile executives throughout the country.
Why hire a career consultant? The explanation is simple: in an ultra-competitive market where the best jobs listed on job websites can easily fetch 700 submissions or more, candidates need to think out-of-the-box to make their résumé stand out. As a result, job seekers are turning more and more to professionals who give expert career advice – and Brian Daniel is among the world's foremost experts on scoring elite personal assistant jobs; not only because he's done the job himself, but also due to the fact he's now a recruiter for business leaders and icons of industry.
A career consultant covers all things A to Z: how to write a résumé and cover letter, how to land the interview, image consulting, and of course how to get the job. It's not enough to just send out a résumé because applicants need to refine their presentation to employers in every way possible; and that's especially true for those who want to land the best jobs with celebrities or VIP families.
"In and out of the United States, there are more super-wealthy families than ever before," says Daniel, who has been making placements since 2007. "So dream jobs are out there for the taking if you know how to penetrate the hidden job market. If you can't get work in your regular vocation, there are cool jobs as an executive assistant or travel manager for a high net worth family. Why not reinvent yourself and work for one of the world's 1,200 billionaires?" (Almost half of which are in the U.S.).
Essentially, personal assistant jobs to high net worth families are like travel jobs because you're constantly on the go. There are 9 million millionaires in the United States, and the top-tier families have multiple estates, fleets of exotic cars and often have more than one private jet. They desperately need trustworthy staff to manage their lives, and these personal assistant jobs can pay over $100,000 a year – not counting benefits, perks and year-end bonuses.
"The biggest misconception job seekers have is that a dream job is impossible to attain," says Daniel, "and it simply isn't true. There are literally tens-of-thousands of personal assistant jobs out there in all 50 states. You just need to know how to find the best jobs because they aren't going to be listed on job websites; they are in a hidden job market."
The company currently places assistants in all major job markets including Los Angeles, San Francisco, Las Vegas, Chicago, New York City, and Miami.