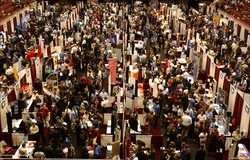 After losing a friend to the war in Iraq, I always wanted to do all I could to expose the great work these brave men and women do day in and day out serving in harm's way protecting our way of life
Jamison, PA (Vocus) March 9, 2010
The 82nd annual Academy Awards aired last night and what a terrific show it turned out to be. There was great representation of military bravery and heroism, but there are real life heroes amongst us, and it is time we helped them transition back to civilian life. Milicruit and Hire Heroes USA are pleased to announce the inaugural virtual career fair for veterans and veterans with disabilities.
More than 80,000 brave men and women have been killed or injured while serving and protecting our way of lives, but yet as they return, unemployment amongst them continues to be at least 4 points higher than that of their equivalent peers with non military experience in their job search.
"After losing a friend to the war in Iraq, I always wanted to do all I could to expose the great work these brave men and women do day in and day out serving in harm's way protecting our way of life" Says Kevin O'Brien, CEO Milicruit.
Many of the soldiers who have been injured serving overseas, have difficulties getting to and from career fair locations, and therefore often go unnoticed, but the Milicruit technology brings the career fair to them. Unlike a traditional career fair that may last for a few hours one day, the Milicruit events run for an entire month and is available 24/7
In the Milicruit virtual career fair environment, a veteran can:

Visit employer booths
View job openings
Chat with company reps
See videos and presentations
All from the comfort and convenience of home!
"Even in a down economy, many of the nations industry leading organizations continue to have staffing needs, and we believe that veterans can and should fill any available positions first, given all they have sacrificed for us" Says Kevin O'Brien, CEO Milicruit
The event will run live on April 29th, and is limited to 75 employers. A partial list of some other organizations already signed on include, Amazon, Verizon, GE, Target, Comerica, TFX Bank, Ryder, Stryker, Booz Allen, NavAir
Employers will have 26 different booth styles to choose from, and each booth is customized to match the corporate look and feel of each employer.
Take this opportunity to look at veterans first in your hiring needs.
About Hire Heroes USA
HHUSA's mission is to provide career placement assistance to all of our returning service men and women. The HHUSA program focuses on providing transition assistance to Operation Iraqi Freedom and Operation Enduring Freedom veterans, specializing in the career placement of those injured or with any level of disability. HHUSA serves veterans from all branches of the military: Army, Navy, Air Force, Marines, National Guard, Reservists and Coast Guard. HHUSA matches the skills and interests of returning veterans with the needs of participating hiring companies nationwide. A personal approach facilitates matching of the career interests, qualifications and transferable skills of veterans with the needs of hiring companies partnering with HHUSA to fill job openings nationwide. We offer our services at no charge to veterans and employers. As a 501(c)(3), non-profit organization, our program is supported through private and corporate donations. For more information, please visit http://www.hireheroesusa.org.
About Milicruit
Milicruit provides virtual career fairs that bring the veterans and industry leading employers together in a fully interactive 3 dimensional environment. The Milicruit events are available 24/7 and accessible anywhere the user has computer and internet access. For more information, visit http://www.milicruit.com.
###