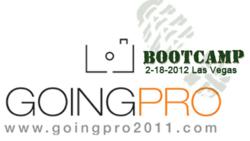 A unique opportunity for aspiring professional photographers!
Las Vegas, NV (PRWEB) January 24, 2012
Since its inception a little over two years ago, GoingPro has helped thousands of people launch careers as professional photographers. What started as a book project from Random House has grown to an estimated 50,000 followers of the GoingPro Blog, 125-150,000 downloads a month of sixty-four different podcasts and their second live bootcamp coming up on February 18 in Las Vegas.
"We're not teaching photography, but business and marketing," commented co-founder, Scott Bourne. "Obviously, if you don't understand how to capture and create outstanding images, knowing the business and marketing side isn't going to help. However, there are a lot of great photographers who just don't know how to get it all started. That's what we're focusing on with each bootcamp, not to mention all our podcasts and posts," Bourne went on to comment.
The February 18 program, intentionally set with an affordable price point of just $99.00, will include three speakers for the all day event: Phoenix photographer and icon, Michele Celentano, Scott Bourne and Skip Cohen. These three seasoned professional represent over a hundred cumulative years in photography and there are few challenges they haven't dealt with throughout their careers.
This incredibly experienced team will cover ideas on marketing, pricing, building a solid business, insurance, social media, community involvement and local networking, just to name a few. Most important of all, they will help attendees figure out how to promote themselves and their work in order to get their second customer.
"Anybody can get their first customer. The trick of building a solid business is getting the second customer and even better, getting the first customer to come back a second time," said Cohen, GoingPro's other co-founder. "Photographers know how to focus their camera. Well, we're going to help them focus on concepts like quality, value, integrity and the ability to exceed customer expectations. Those are the key attributes of any business that bring customers back!" he added.
To register for GoingPro Bootcamp, visit http://goingprobootcamp2.eventbrite.com/ and for more information on the complete concept for aspiring professional photographer visit the GoingPro website or contact Skip Cohen at skip(at)mei500(dot)com or Scott Bourne at scottbourne(at)mac(dot)com.
###