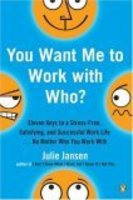 The Voice of Career Leadership.
Stamford, CT (PRWEB) June 16, 2008
Julie Jansen, a popular motivational speaker, coach, employment expert, and trainer, works with companies and individuals in developing the competencies, skills and techniques needed to thrive in today's chaotic business world. Jansen's corporate clients include Deutsche Bank,Time-Warner, Sony, UBS, Yale University, and DHL Global Forwarding.
One of the first questions producer/host Peter Clayton asked Julie Jansen in a new, 23 minute Success Strategies podcast on Total Picture Radio happens to be one of the most recurring questions she is asked in her speaking engagements: "My new boss is a toxic, obnoxious jerk - what can I do?" Jansen reveals a number of ways to proactively deal with "difficult people." She begins by advising listeners to "change your own behavior."
Julie is the author of two popular career development: "I Don't Know What I Want, But I Know It's Not This: A Step-by-Step Guide to Finding Gratifying Work" and "You Want Me to Work With Who? Eleven Keys to a Stress-Free, Satisfying and Successful Work Life...No Matter Who You Work With."
One of the "Eleven Keys" discussed in the interview on Total Picture Radio is flexibility. Change in the business world is happening so fast that people really need to see rapid -- at times tectonic change as "an opportunity." However, Jansen's research discovered flexibility is not a learned behavior, and remains one of the most difficult, and stressful issues many people deal with.
Another hot topic Clayton approached with Julie: "What advice do you give someone who walks into work one day and is introduced to their new boss - who just happens to be ten or fifteen years younger?" Cross-generational issues have become far more pronounced. Regarding job and career choices, Jansen has found that "'meaning' is the number one thing anyone under forty is looking for."
When conducting a job search, Jansen believes "a one-level job search is simply a numbers game... you need to focus on your interpersonal skills, your ability to network with people..."
The podcast with Julie Jansen can be found in the Success Strategies channel of Total Picture Radio, and on iTunes. Just do a search in the iTunes store for Total Picture Radio, and subscribe to the free podcast.
About Julie Jansen:
Julie Jansen is a career coach, consultant, and author. Jansen has been featured in publications such as Psychology Today, Fortune, Cosmopolitan, Woman's Day, Essence,
The New York Times and Career Builder and on radio and TV shows such as The Faith Middleton Show, The Today Show and Tucker Carlson's The Situation/MSNBC. Jansen is a frequent speaker at associations, corporations, and non-profit groups throughout the United States. She lives in Stamford, Connecticut. Visit Julie Jansen's website at http://www.juliejansen.net.
About Total Picture Radio
Total Picture Radio is a career empowerment podcast program for knowledge workers. We are committed to sharing ideas and commentary from thought leaders in business, strategy, marketing, career management, media, corporate responsibility, and the Internet. TPR podcasts actionable information for high-performance careerists - and business leaders creating talent-focused organizations. Our in-depth interviews include best-selling authors, senior executives, visionaries, leadership coaches, and entrepreneurs. Total Picture Radio is "The Voice of Career Leadership." Sponsorship opportunities are available for Channel sponsorship, and the high-profile events we cover throughout the year.
###