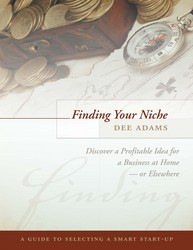 Some experts note that 90 percent of the workforce is not aware of their actual abilities," says author Dee Adams.
Oakland, CA (PRWEB) November 2, 2010
A million new businesses open each year in the U.S., and 60 percent will begin at home, according to government statistics. However, deciding what kind of business to start is a difficult problem for a lot of people who are considering self-employment. This issue is the focus of a new book by Dee Adams entitled
Finding Your Niche: Discover a Profitable Idea for a Business at Home — or Elsewhere. For a free excerpt, visit http:// http://www.nichecreativity.com.
The guide offers a practical and entertaining look at key questions that budding entrepreneurs need to answer before they choose a startup. Readers will learn how to avoid common mistakes and overcome roadblocks. Reprints of hard-to-find articles by industry and academic veterans, resource lists, an extensive book and magazine bibliography, and other time- and money-saving information are included.
"Finding Your Niche grew out of my dissatisfaction with the hundreds of business books I reviewed. Many guides contained only a single chapter on how to select a venture. Most classes and materials for entrepreneurs do not cover the topic in sufficient detail. One government publication covers the issue in 17 lines of copy. Some books are packed with an array of business ideas, but the lists do not describe niches or how to choose the right one, showcasing instead competitive industries. Finding Your Niche is a look-before-you-leap resource guide, and not a book about the mechanics of starting and operating an enterprise. It includes topics not typically found in traditional business books," says Dee Adams.
Adams has written and published business literature for more than 70 university, community college, and public libraries across the country.
For a free excerpt of Finding Your Niche, ISBN 978-0-615-19706,
visit http:// http://www.nichecreativity.com.
###