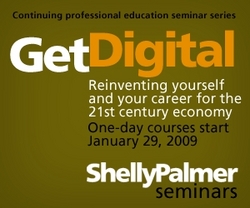 Most people can use a computer, but not everyone has the small business technology skills that allow them to make best use of the digital tools at their disposal
New York (PRWEB) January 13, 2009
Small business technology skills are essential for anyone looking to thrive in the current economy. And there is no better introduction for geek or Luddite alike than Get Digital: Reinventing Yourself and Your Career for the 21st Century Economy. This one day boot camp, offered by noted consultant and career coach Shelly Palmer, is an engaging way to learn digital skills immediately applicable to a career. It takes place Tuesday, January 29 at 10 am at 630 Second Ave. in New York.
"Most people can use a computer, but not everyone has the small business technology skills that allow them to make best use of the digital tools at their disposal," Palmer said.
Get Digital throws open the door to an interconnected world in which small business technology -- electronics, computer software and social networking tools -- serves to help develop your personal brand. Whether worried about keeping a job, looking for a promotion or looking to start a business, participants will benefit from technical training as well as practical advice and insights from incomparable career coach Shelly Palmer.
The day-long training session is divided into three main components - digital work/life, software skills and hardware skills. Each part is designed to equip students with the key skills and knowledge to make them more productive, smarter users of small business technology.
Specific topics addressed include:

Build an online presence
Use social networks like Facebook and LinkedIn to develop your personal brand
Create graphics, email blasts and use other personal marketing tools
Harness the power of digital calendars, email and other contact management tools
Choose Mac or PC? iPhone or Blackberry?
Discover how to successfully adapt the tools to enhance your life/work mix
By the end of the day with the noted career coach, participants will gain a solid understanding of a wide range of digital tools and the strategies to best use them as vital parts of small business technology.
Cost for the day is $449.95 per person and includes all course materials. Bring a laptop, WiFi will be provided.
About Shelly Palmer
Shelly Palmer is uniquely gifted as a career coach, with a diverse set of experiences that truly make him a renaissance man. He is a consultant and the host of MediaBytes a daily show featuring news you can use about technology, media & entertainment. He is Managing Director of Advanced Media Ventures Group LLC and the author of Television Disrupted: The Transition from Network to Networked TV (2008, York House Press). Shelly is also President of the National Academy of Television Arts & Sciences, NY (the organization that bestows the coveted Emmy Awards).
Mr. Palmer's unique experiences and associations shape his approach as a career coach and his view of small business technology. He is a popular speaker and moderator at technology and media conferences hosted by industry organizations, like: The Consumer Electronics Show (CES), The National Association of Broadcasters Convention (NAB), The National Show presented by the National Cable Television Association (NCTA), Telecom presented by the United States Telecom Association, Digital Hollywood, iHollywood, ad:tech, and iMedia. He is a guest lecturer at the MIT Media Lab, Stern Graduate Business School at NYU, The Columbia Institute for Tele-Information (CITI) at Columbia University, The Graziadio School of Business Management at Pepperdine University, The Digital Content Lab at the American Film Institute and other top tier colleges and universities. For more information, visit shellypalmer.com
###