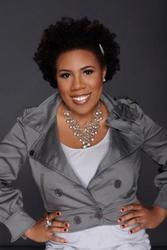 My success and personal joy are directly proportional to my investment in encouraging and nurturing others.
Houston, TX (Vocus) September 30, 2010
Melinda Doolittle, American Idol star, recording artist and author of Beyond Me, will be featured on Total Career Success, an Internet show on VoiceAmerica Talk Radio Network, at 11 a.m. Central on Monday, October 4. The show is designed to inform listeners and encourage them to achieve their career goals by featuring experts and business leaders to provide advice on job search and career advancement. Melinda has sky rocked to fame since her rise on American Idol. Now she shares her secrets to finding one's way to the next level:
•Invest in others
•Work hard to realize your dream
•Listen to the wisdom of others
•Be prepared
•Be open to criticism and release offenses
•Face your fears and do it anyway
Doolittle, who became a star on season six of American Idol, shares poignant, often humorous stories, revealing the secrets of her success and giving practical guidance to overcome personal obstacles to achieve the next level in any area of life.
Doolittle said, "My success and personal joy are directly proportional to my investment in encouraging and nurturing others."
Tone deaf as a child, Doolittle's choir teacher would plead with her not to sing, but just silently move her mouth. Undaunted, her love of singing drove her to enter a talent show in the 7th grade and, miraculously, she stunned the audience with her spot-on vocals and beautiful voice. Doolittle began to realize that success in life was something bigger than her—or, as she puts it, "It's beyond me!"
Doolittle adds, "I haven't just sat back and let life throw at me whatever it will. Instead—and this has been key—I've always worked to find my way to life's next level."
To achieve her dream of becoming a recording artist, Doolittle began by setting and systematically reaching her goals, such as singing background vocals for many of her favorite music artists. Then, following an amazing turn of events, she burst onto the music scene with her flawless vocal performances on American Idol – becoming the clear favorite of the show's most difficult judge, Simon Cowell.
Sheryl Dawson, co-host shared. "Melinda provides a rare behind-the-scenes glimpse of one of America's biggest pop culture phenomenon, American Idol, and how she turned that stress filled environment into a springboard from which she could soar."
Ken Dawson, Total Career Success show host added, "Melinda is as down to earth as they come. She has not let her fame replace the humble memories of how she achieved her dream."
Dawson stated, "Melinda is an excellent model of how success is achieved --- it is not by luck or birth right, but by faith and hard work. Be inspired to achieve beyond yourself and attain your next level."
To listen to the broadcast, please visit voiceamerica.com and click on the Total Career Success icon. The show will air live at 9 – 10 a.m. Pacific time on October 4 and will then be available as an archive on the web site or to be downloaded to MP3 players and cell phones, or from iTunes http://www.itunes.com/podcast?id=311541702
For 7 free videos on career transition for boomers and every generation, visit http://www.betterjobbetterlife.com
About Melinda Doolittle
Melinda Doolittle, who became a household name on season six of American Idol, has continued to thrill; first, with her critically acclaimed debut album, Coming Back to You, and now with the release of her book, Beyond Me. Since her time on Idol and her transition into the spotlight, Melinda has wowed audiences everywhere with her 'big voice' and 'soulful' performances, from the White House to the Musicians Hall of Fame, from the Kennedy Center to Carnegie Hall. Her debut album, Coming Back to You (2009), garnered rave reviews from critics, including The New York Times which hailed Melinda as one of the most 'phenomenally gifted' in years. Melinda's love for music is eclipsed only by her love of giving back, as she dedicates much of her time to working with numerous charities, especially those that center on improving the lives of children; including the Vanderbilt Children's Hospital, Ronald McDonald House and The League, which promotes involvement in community service among children. She also works extensively with Malaria No More, and has traveled to Africa twice, once as a presidential delegate and once with former First Lady Laura Bush, bringing awareness to the preventable disease that takes the lives of over 1 million children under the age of five, every year. For more MelindaDoolittle.com
About Total Career Success
Total Career Success, which is broadcast on VoiceAmerica, the world leader in Internet Talk Radio, aims to engage listeners in new ways of thinking about their potential, their goals, and their future. The show hosts are Ken and Sheryl Dawson, principals of Total Career Success, Inc. and authors of Job Search: The Total System, 3rd edition. They have served corporations in outplacement and career development as well as talent management optimization for 30 years in their consulting firm Dawson Consulting Group. The show presents guests who are experts in their fields to share the lessons they have learned in succeeding in their various areas of excellence and to discuss tips about a broad range of career issues, from specific career opportunities, to industries and workplace changes, to financial and career advancement considerations. To access their free job search and career transition video series visit http://www.betterjobbetterlife.com For more information, visit totalcareersuccess.com.
###