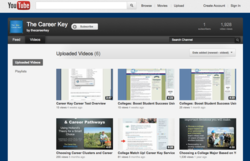 Short screen casts and demos will help our users get the maximum benefits from The Career Key career assessment.
Portland, OR (PRWEB) May 31, 2012
Career guidance leader Career Key has created new career assessment demos and tutorials for Career Key's YouTube channel. Videos introduce users to Career Key's valid career test and how to take best advantage of its features. Screen casts also demonstrate how colleges can use the Career Key and personality-college major match to boost student retention, grades and graduation rates.
"Short screen casts and demos will help our users get the maximum benefits from The Career Key career assessment," says Juliet Wehr Jones, GCDF, J.D., Vice-President of Career Key. "These videos advance our goal to help people make the best career planning and college major decisions, even if they have limited time and money."
On The Career Key's YouTube Channel "thecareerkey", the first two videos in the "Career Key Demos and Tutorials" playlist are:
1. The Career Key Career Test Overview (length: 2:47)
2. Colleges: Using the Career Key to Boost Retention, Grades, and Graduation Rates (length: 4:23)
The "overview" helps students taking and counselors administering The Career Key test get a quick introduction to how to take the test and get the most benefit from it. The test has two parts: (1) the scientifically valid measure of Holland's six personality types, and (2) creation of a personal job option list of matching careers. Careers saved on this list are linked to up to date career information (salary, job outlook, education and training) found in the U.S. Department of Labor's 2012-13 Occupational Outlook Handbook.
Students can use their test results, through Career Key website articles, to explore matching college majors, green jobs, and career clusters and pathways.
The second video demonstrates how colleges can use The Career Key test and website to boost student retention and success. It describes the research supporting personality-college major match and how colleges can take advantage of it using Career Key's new College Major Match service.
Future videos will focus on:

Cost-effective group use of The Career Key for career planning;
Using the Career Key website in combination with the paper-pencil, self-scoring version of The Career Key assessment;
Answers to common questions about interpreting Career Key test scores; and
Holland college major environments.
Career Key plans on adding more demo and tutorial videos as features of The Career Key assessment and website change.
About The Career Key®
Since 1997, Career Key has been the #1 Internet source for helping people choose careers and college majors. Advertising and registration-free, it offers a valid career test, information, and advice articles based on the best practices and science in the field.