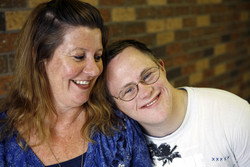 Job opportunities in the disability and community care sector are booming
(PRWEB) February 20, 2011
Work in the disability or community care sector appeals to many; with 63 per cent of respondents in the poll conducted by carecareers in NSW,Australia stating that this work would be either 'quite or very rewarding'. Yet only 24 per cent of people have considered a career in the sector.
"Job opportunities in the disability and community care sector are booming; employers in this sector are looking to recruit 40 000 people in the next five years because the number of people using these services is expected to rise to 350 000," says Dr Kate More, State Manager of National Disability Services (NDS) NSW.
Early 2011 marks the first anniversary of carecareers; a one-stop shop for those interested in finding out more about a career in the disability and community care sector. The carecareers employment website functions much like Seek or MyCareer but also offers a careers advisory service and help-line for job seekers.
About 8,000 applications for positions have been made through http://www.carecareers.com.au in the last 12 months.
"We are especially keen to recruit return-to-work mums, career-changers and those studying or newly qualified - who are seeking the benefits of a more rewarding career with flexible hours, varied and creative work, and job security," says Dr More.
"More than 720 employer organisations across NSW have registered to use carecareers to attract a range of workers in the sector including: physiotherapists, speech pathologists, frontline paid-care workers, gardeners, drivers and cooks, as well as executive staff and accountants, marketing, human resources professionals.
"There are lots of misconceptions about what it's like to work in the sector - so last year we created three short films and several television commercials to break down some of those myths - and show the mutually rewarding benefits of paid care staff working to support their clients goals, interests and abilities.
"The positive impact of that work has received accolades from within the advertising industry – winning two Advertising Planning Guild awards, and with two of the short films shortlisted for 'Film Lions' at the Cannes International Advertising Festival in 2010," Dr More says.
carecareers is a NSW government-funded initiative launched to help carer job seekers connect with the thousands of opportunities in the sector.
# # #