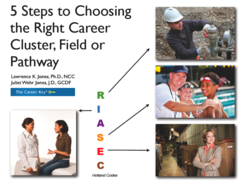 This e-Book matches students' strongest Holland personality types to occupations and their related career clusters and pathways.
Portland, OR (PRWEB) December 14, 2011
Career Key's updated e-Book "5 Steps to Choosing the Right Career Cluster, Field or Pathway" helps students match their interests to career clusters and pathways – a crucial strategy in making a choice that will affect their school and career success.
"Interest-program of study match" significantly affects students' grades, graduation, and career success. When used with a valid career interest test, like The Career Key®, the e-Book matches students' strongest Holland personality types to occupations and their related career clusters and pathways.
Annually, Career Key systematically reviews and organizes all occupations, career clusters and pathways, according to the Holland interests and personality types – to ensure that this match is accurate.
Unfortunately the 16 career clusters and 79 career pathways are not organized by interest, but by industry instead. This means some occupations are found in more than one cluster and pathway, making it challenging for students to choose one. For example, computer programmers are found in six different clusters:
Arts, Audio/Video Technology and Communications
Business, Management and Administration
Health Science
Information Technology
Marketing Sales and Services
Science, Technology, Engineering and Mathematics
To avoid this confusion, the best place for students to start is to choose an occupation that fits their interests and Holland personality type. Then, choose a career cluster or pathway available at their school or college that includes that occupation. Research shows matching one's interests to occupations and college majors increases the chances of career and college success.
The "5 Steps to Choosing a Career Cluster or Pathway" are,
1. Accurately assess your interests using a scientifically valid career test, like The Career Key (purchased separately),
2. Match your interests to occupations,
3. Find the clusters and pathways related to those occupations,
4. See how your career choice fits into clusters and pathways offered by your school or college, and
5. Make a good decision using the science-based ACIP process.
Available in The Career Key eBookstore, a single PDF e-book copy costs $9.95 with a special discount when purchased together with The Career Key test. Group pricing is available upon request.
To learn more, view this short YouTube video called "Choosing Career Clusters and Career Pathways".
About The Career Key®
Since 1997, Career Key has been the #1 Internet source for helping people choose careers and college majors. Advertising and registration-free, it offers a valid career test, information, and advice articles based on the best practices and science in the field.
###